Poor nutrition and an unhealthy diet can lead to skin problems like acne, wrinkles, and dryness. But a plant-based diet can improve skin health by providing essential nutrients and antioxidants.
What is a plant-based diet?
A plant-based diet (also known as a vegan diet) one that delivers nutrition from plant foods: fruits, vegetables, seaweed, herbs, legumes, grains, nuts and seeds. And botanical 'superfoods'.
How does a
plant-based diet

improve skin health?
Reduces inflammation
Inflammation is a natural response of our immune system to protect us from infections and injuries. However, chronic inflammation can lead to skin problems like acne, psoriasis, and eczema.

Plant-based foods are rich in anti-inflammatory compounds like polyphenols, flavonoids, and carotenoids, which can help reduce inflammation and improve skin health.

Inflammation is linked so strongly to skin-ageing that it is known as 'inflammaging', therefore any dietary style that reduces inflammation will also be minimising skin-ageing.
Empty space, drag to resize
DIETARY PATTERNS HIGH IN REFINED STARCHES, SUGAR, AND SATURATED AND TRANS-FATTY ACIDS, POOR IN NATURAL ANTIOXIDANTS AND FIBER FROM FRUITS, VEGETABLES, AND WHOLE GRAINS, AND POOR IN OMEGA-3 FATTY ACIDS MAY CAUSE AN ACTIVATION OF THE INNATE IMMUNE SYSTEM, MOST LIKELY BY AN EXCESSIVE PRODUCTION OF PRO-INFLAMMATORY CYTOKINES ASSOCIATED WITH A REDUCED PRODUCTION OF ANTI-INFLAMMATORY CYTOKINES.
Journal of the American College of Cardiology 2006
Empty space, drag to resize
Provides essential nutrients
Skin needs a variety of nutrients to stay healthy and glowing. For example, vitamin C and Manganese is essential for collagen production, which keeps our skin firm and elastic. Vitamin E is a powerful antioxidant that protects our skin from oxidative stress. Plant-based foods are rich in these essential nutrients and can help improve skin health.
Empty space, drag to resize
Fruit and vegetables consumption may represent the most healthy and safe method in order to maintain a balanced diet and youthful appearing skin.
Dermatoendocrinol. 2012
Empty space, drag to resize
Rich in Antioxidants
Antioxidants are molecules that neutralise free radicals, which are harmful molecules that can damage our skin cells and accelerate ageing.

Plant-based foods are rich in antioxidants like vitamin C, vitamin E, beta-carotene, Manganese and selenium, which can help protect our skin from damage and improve its overall health.

Known as 'The Free Radical Theory of Ageing' Oxidative damage is one of the major skin-ageing pathways that can be moderated via diet - specifically by consumption of anti-oxidant rich foods: fruits, vegetables and edible botanicals.

ORAC (Oxygen Radical Absorbance Capacity) is how antioxidant activity is measured in foods. The higher the score, the more antioxidant activity.
Empty space, drag to resize
...antioxidant content of foods varies several thousand-fold and that antioxidant rich foods originate from the plant kingdom while meat, fish and other foods from the animal kingdom are low in antioxidants.
Nutr J. 2010
Empty space, drag to resize
Better gut health
The gut microbiome plays a crucial role in our overall health, including skin health. The gut-skin axis is crucial to our understanding of how diet influences skin health and the formation of dermatoses such as acne, eczema, psoriasis and roasacea

The gut microflora depend on carbohydrates, specifically MACs (Microbiota Accessible Carbohydates) to thrive. A plant-based diet can promote a healthy gut microbiome by providing fibre (prebiotics) and MACs.
Empty space, drag to resize
Prebiotics and probiotics that act on the gut-skin axis possess many biological activities, including immunomodulatory and antioxidant activity, which can benefit skin conditions by increasing skin hydration, skin gloss, skin elasticity, and alleviating facial wrinkles
Empty space, drag to resize
Hydrates the skin
Plant-based foods are also rich in water, which can help keep skin hydrated and youthful. Dehydrated skin can lead to wrinkles and other signs of ageing. Consuming water-rich plant-based foods like fruits and vegetables can help keep our skin hydrated and healthy. Learn more about this in our free class
Skin Hydration 101


Osmolytes - small molecules in plant foods like
Sorbitol in berries
- help to regulate water movement through the cells.
Empty space, drag to resize
DRINKING MORE THAN 2L OF WATER A DAY CAN HAVE A SIGNIFICANT IMPACT ON SKIN PHYSIOLOGY
Int. J. Cosmetic. Sci. 2007
Empty space, drag to resize
Eat more plants for skin health
The future of skin health is a plant-based diet. Consuming a variety of plant-based foods can provide essential nutrients, reduce inflammation, decrease oxidative damage, repair and improve the gut-skin axis and hydrate the skin from within.


Encourage your clients maximise their skin-health by switching to a plant-based diet or at the very least increasing the levels and range of plant-based wholefoods - especially colourful juicy fruits and vegetables
In beauty, Star
Ps if you're fascinated by evidence-based dietary interventions for healthy skin, you'll love our internationally accredited program:
Diploma in Integrative Nutridermatology®
References
Giugliano D, Ceriello A, Esposito K. The effects of diet on inflammation: emphasis on the metabolic syndrome. J Am Coll Cardiol. 2006 Aug 15;48(4):677-85

Silke, K. et al. 'Discovering the link between nutrition and skin aging' Dermatoendocrinol. 2012 Jul 1; 4(3): 298–307

Nishimura K, Osawa T, Watanabe K. Evaluation of oxygen radical absorbance capacity in kampo medicine. Evid Based Complement Alternat Med. 2011;2011:812163

Carlsen MH, Halvorsen BL, Holte K, Bøhn SK, Dragland S, Sampson L, Willey C, Senoo H, Umezono Y, Sanada C, Barikmo I, Berhe N, Willett WC, Phillips KM, Jacobs DR Jr, Blomhoff R. The total antioxidant content of more than 3100 foods, beverages, spices, herbs and supplements used worldwide. Nutr J. 2010 Jan 22;9:3

Ratanapokasatit Y, Laisuan W, Rattananukrom T, Petchlorlian A, Thaipisuttikul I, Sompornrattanaphan M. How Microbiomes Affect Skin Aging: The Updated Evidence and Current Perspectives. Life (Basel). 2022 Jun 22;12(7):936
Williams S, Krueger N, Davids M, Kraus D, Kerscher M. Effect of fluid intake on skin physiology: distinct differences between drinking mineral water and tap water. Int J Cosmet Sci. 2007 Apr;29(2):131-8.
Vivien W. Fam, Prae Charoenwoodhipong, Raja K. Sivamani, Roberta R. Holt, Carl L. Keen, Robert M. Hackman,
Plant-Based Foods for Skin Health: A Narrative Review, Journal of the Academy of Nutrition and DieteticsVolume 122, Issue 3, 2022,Pages 614-629,

Star Khechara
Professional agehacker, author, speaker, founder of skin nutrition institute
About me
Ex-skincare formulator and beauty author turned skin-nutrition researcher and educator: Star distilled her 20+ years of skin-health knowledge into the world's first international accredited skin-nutrition school to teach holistic health and beauty practitioners the verified science of skin-nutrition and cellular-level skin rejuvenation.
BEFORE YOU GO
GRAB YOUR FREE SKIN NUTRITION
PRACTITIONER STARTER KIT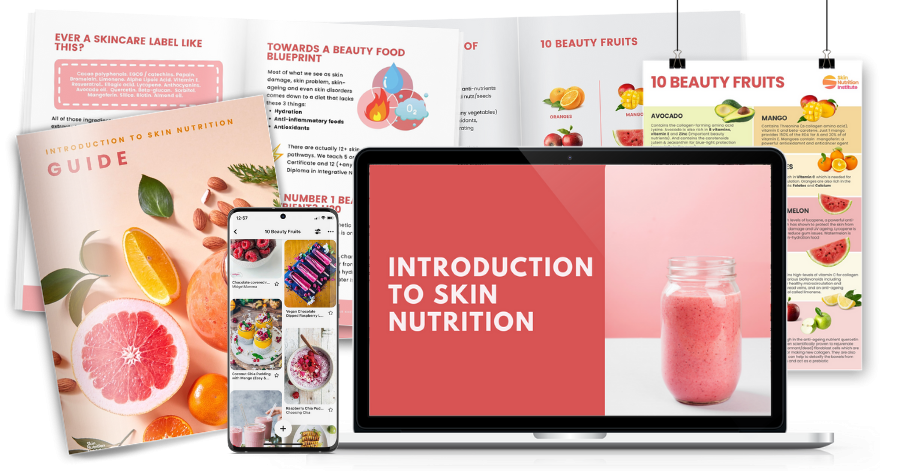 Created with