Diploma in Integrative Nutridermatology®
The world's first course in skin nutrition, cellular rejuvenation and nutritional dermatology for estheticians, dermatologists and allied functional nutritionists
CLASSES SPLIT INTO 13 MODULES
CEU CREDITS / 100 CPD HOURS
BETWEEN 80-90% OF SKIN AGEING IS THOUGHT TO BE CAUSED BY DIET & LIFESTYLE
DRINKING MORE THAN 2L OF WATER A DAY CAN HAVE A SIGNIFICANT IMPACT ON SKIN PHYSIOLOGY.

J. Cosmetic. Sci. 2007



6% of the body's zinc is present in the skin where it is an important co-factor for several enzymes.
(J Nutr. 2000). Zinc deficiency is linked to alopecia, dry/scaly skin, dermatitis, slow wound- healing and thin hair (Podiatry Today, 2015)
Vitamin E works together with vitamin C to form a powerful team to quench UV- instigated oxidation (Silke et al)
You already know that nutrition is the main character...
You're just used to seeing it in skincare products and dermatological potions, lotions and other topical treatments.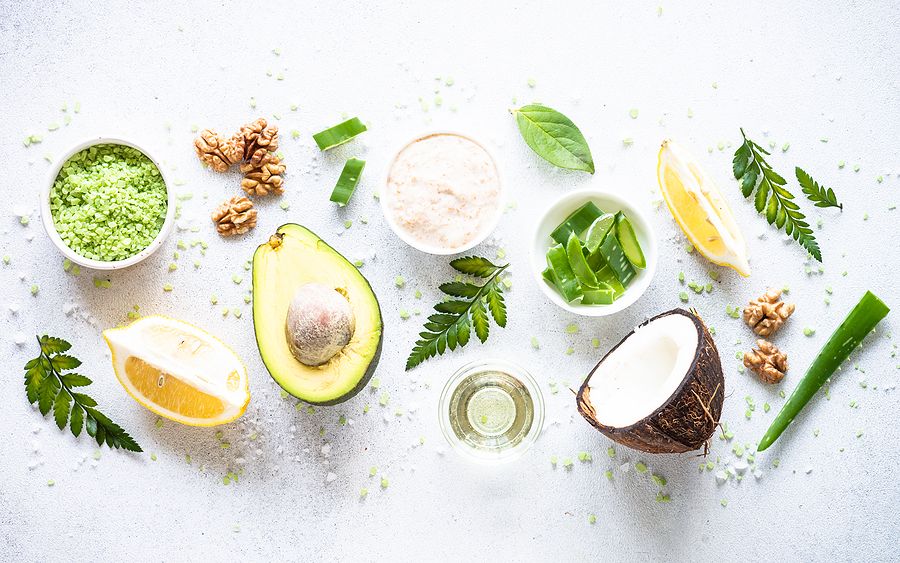 How many of these ingredients do you recognise?
Chocolate & cacao polyphenols
Green tea catechins
Fruit enzymes such as papain from papaya
Limonene from citrus peel
Alpha Lipoic Acid from plant foods
Vitamin E from avocados
Resveratrol from red grapes
Ellagic acid from raspberries
Lycopene from juicy watermelon
Potent purple anthocyanins from dark berries
Nourishing oils from nuts & seeds
Sirtuin (youth protein) activators in strawberries
Anti-ageing quercetin from apples
Anti-skin cancer Selenium in Brazil nuts
Rutin in buckwheat
Collagen-building amino acids from Hempseeds
Carotenoids (from carrots & mangoes) in botanical sunscreen
Aloe Vera gel for skin elasticity
Omega 3 Fatty Acids from Flaxseed
Curcumin from Turmeric in anti-ageing face masks
Newsflash:The skin is not a stomach
These trending foods, nutrients and phytochemicals that you see on the labels of your skincare and dermatology brands are either foods or food extracts. But the skin isn't a stomach. It has a very limited capacity to absorb and assimilate these bioactive compounds directly.

Science research shows us that these potent plant extracts and nutraceuticals are significantly more powerful and biochemically active when they are eaten as part of the diet. This is why as a practitioner in the esthetic sciences you need to add nutrition to your professional toolkit.

If the skin therapists of today don't study nutrition then the nutritionists of today will be the estheticians and dermatologists of tomorrow
Empty space, drag to resize
Dietary interventions have traditionally been an underappreciated aspect of dermatological therapy. Recent research, however, has found a significant association between diet and some dermatological diseases. Dietary interventions may be recommended as therapy, as in acne. Dietary change may help to prevent skin disease, as in aging of the skin or skin cancer.
J Clin Aesthet Dermatol. 2014
Empty space, drag to resize
Dietary factors play an essential role in cutaneous homeostasis since they supply the nutrients necessary for good cellular functioning. Any shortage of these elements can lead to dysfunctions of the cutaneous structure, often hard to identify, since the clinical condition is oligosymptomatic. Nutraceuticals are associations of nutrients with benefits and synergistic effects. They act not only in response to any minor shortage of micronutrients but also in phenomena at the cellular level, associated with aging, dermatoses, and the cellular cycle
Daily Routine in Cosmetic Dermatology
5 reasons why you should train in Integrative Nutridermatolgy®
Elevate your expertise, your clinical practice, knowledge and your client's results in 2023
1.
To Promote Healthy Skin
THE SKIN IS THE LARGEST ORGAN IN THE HUMAN BODY AND DIRECTLY AFFECTED BY THE NUTRIENTS THAT WE CONSUME. A HEALTHY DIET CAN PROMOTE HEALTHY SKIN, WHILE A POOR DIET CAN LEAD TO SKIN PROBLEMS SUCH AS ACNE, ECZEMA, AND PREMATURE AGEING.
2.
And Offer Effective Treatments
MOST SKIN CONDITIONS, SUCH AS ACNE AND ECZEMA, HAVE BEEN LINKED TO DIETARY FACTORS. BY UNDERSTANDING THE ROLE THAT NUTRITION PLAYS IN SKIN HEALTH, DERMATOLOGISTS AND ESTHETICIANS CAN PROVIDE MORE EFFECTIVE TREATMENTS FOR THESE CONDITIONS.
3.
To Understand Nutricosmetics
MANY SKIN CARE PRODUCTS CONTAIN NUTRIENTS THAT CAN BENEFIT THE SKIN. BY STUDYING NUTRITION, DERMATOLOGISTS AND ESTHETICIANS CAN BETTER UNDERSTAND THE EFFECTS OF THESE INGREDIENTS AND RECOMMEND PRODUCTS THAT ARE MOST LIKELY TO BE EFFECTIVE.
4.
For Vibrant Happy Clients
NUTRITION IS AN IMPORTANT FACTOR IN OVERALL HEALTH AND WELLNESS. BY UNDERSTANDING THE ROLE THAT NUTRITION PLAYS IN SKIN HEALTH, DERMATOLOGISTS and estheticians CAN PROVIDE MORE COMPREHENSIVE CARE TO THEIR PATIENTS AND HELP THEM ACHIEVE OVERALL HEALTH AND WELLNESS.
...And reason 5: to be on the leading edge of what your clients want
The convergence of food and cosmetics in the beauty industry is a major trend in the recent years, gaining an enormous importance on consumer habits including the diet, the nutritional supplement intake and food-based cosmetics

Trends in Food Science & Technology
The global market for nutricosmetics - digestible beauty products - is projected to reach $7.4 billion by 2020, driven by the 'beauty from within' trend.

Global Industry Analysts Inc
Beauty and anti-ageing is by far the largest sector in the $3.7 trillion wellness economy.
cosmeticsdesign.com
With so much misinformation on the web the last thing you want to see is another Instagram 'expert' or TikTok influencer talking nonsense about chia seeds, kale and collagen lattes...
If just ONE MORE social media 'health guru' appears in your newsfeed you might just find yourself screaming loudly into the abyss.
You just want valid peer-reviewed, scientifically-accurate information and practitioner-level training so you can up-level your current career and include skin-nutrition services for your clients or staff.
I really love your modules.

Being a nutrition scientist, I really appreciate that everything you teach has a sound scientific base
Christina Ehrhardt | Germany
Being a Registered Holistic Nutritionist and an Esthetician, going into the course I already had a very good understanding of nutrition and the skin.

Skin Nutrition Institute really helped me to tie them both together which in turn helped me to take my business to a whole new level
Jessica Luft | Canada.

What you need is a practitioner-level program with no room for doubt
The Diploma in Integrative Nutridermatology® has been designed for your specific industry and for your discerning scientific mind
Empty space, drag to resize
*Chia seeds not included
Evidence-Based
Over a decade of peer-reviewed research and development has gone into this prestigious program
In-depth and comprehensive
Many courses in skin-nutrition teach just one topic. Our program covers every aspect of skin-health, ageing and nutrition.
Fully referenced
Every single lesson comes with a full citation list so you can fact-check with confidence.
Industry specific
This isn't a typical nutrition course this is a career development program for practitioners in the skin-health and beauty industries.
Advanced
This program is the approximate academic level of the first year of a university degree (level 4-5).
Vocational
Knowledge has power but you need to know how to use it. We teach you the theory AND the practice plus you get access to our library of client materials
Cell biology
Skin anatomy and Physiology
The Extracellular Matrix: Elastin, Collagen and Hyaluronic acid
Integrative Skin health
Skin Microbiome
2: Skin Ageing Pathophysiology & Biomechanics
Oxidation

Glycation (endogenous and exogenous)

Dehydration

Inflammaging

Garbage-ing (MTOR / IGF-1 - Autophagy Axis)

Malnutrition

Autointoxication and Endogenous …

Hormonal dysfunction

Estrogen, Menopause and Skin-ageing

Telomere shortening and cellular senescence

Microbiome and the gut-skin axis

Insulin resistance

Sun damage + dietary 'sunblock'
3. Nutrigenomics: Nutritional Epigenetics
DNA and Genes 101

Epigenetics and gene modification

Epigenetics and skin-ageing

Epigenetic compounds in foods
4. Integrative Skin Nutrition
The Facelift Food Formula

The Skin-Health Nutrition System

Dietary patterns for anti-and pro-ageing

Macronutrition for skin health

Micronutrition for skin health

Fibre: the bowel-beauty connection
5. Collagen Biosynthesis and Retention
Collagen production in the skin

Collagenase inhibition

Dietary factors affecting collagen

Collagen and menopause
6. Functional Nutricosmetics
Botanicals & Rejuvenating Superfoods

Rainbow rejuvenation: the power of plant pigments

50 Key plant foods for skin health

Sirtuins and senolytics
7. Anti-Ageing Phytochemicals & Nutriceuticals
The Phytochemical family tree

Phenols + Polyphenols

Terpenes + Carotenoids

Polysaccharides

Glucosinolates

Betalains
8. Nutrition Interventions for Skin-Health and Ageing
Dietary protocols for glycation, inflammaging, dehydration and oxidation

Nutritional strategies for menopause, hormonal imbalance and insulin resistance

Functional foods for cellular rejuvenation: telomere lengthening, cellular senescence, senolytics and sirtuin activators.

Modulating genes with epigenetic modulators in foods.

Specific nutrient + phytochemical interventions for rejuvenation and skin-ageing

Collagen boosting foods and nutrients

Targeted dietary plans for overall age-defiance and cellular rejuvenation

Dietary strategies for gut health, skin microbiome and metabolic endotoxaemia
9. Malnutrition and Dermatoses
3 types of malnutrition
Micronutrient dysfunction and skin disorders
Macronutrient dysfunction and skin disorders
Specific nutrients for skin, hair and nail health

10. Gut dysbiosis and dermatoses
Leaky gut and skin disorders
Gastrointestinal problems and skin disorders


11. Nutridermatologic Phytochemistry
Phytochemicals and nutraceuticals and connected skin disorders
12. Nutridermatology: epigenetic and dietary causes of dermatoses
Acne, Psoriasis, Eczema
Roasacea, Xerosis and Sebhorreic Dermatitis
Cellulite, thread veins, stretch marks and skin tags
Pigmentation issues
Alopecia and Hair growth
Urticaria and histamine reactions
UV damage, solar keratoses and skin cancer
13. Interventions and preventative Nutridermatology®
Preventative nutrition for malnutrition-caused skin, hair and nail disorders
Clinical nutrition interventions for acne, psoriasis, eczema, seborrheic dermatitis, xerosis, urticaria, Rosacea, pigmentation issues and alopecia
Nutritional intervention for the treatment of UV damage
Preventative nutrition for UV damage and skin cancer
Dietary strategy for preventing dermatoses
Analysis of dietary pattern that causes most dermatoses
Some of the skin conditions you'll learn to treat with nutrition
Empty space, drag to resize
UV DAMAGE AND SKIN CANCER
All fees are in USD (American Dollars)
Guaranteed Security using one of the most advanced encrypted systems on the market.
The information in this page is being processed and encrypted securely using industry-leading encryption and fraud prevention tools.

All fees are in USD (American Dollars)
This program is perfect for...
Estheticians
Market trends show that the sectors of nutrition and esthetics are converging. Stay at the leading edge of your profession with Integrative Nutridermatology®
Dermatologists
Scientific studies are announcing that diet is the new face of dermatology. Don't get left behind in during this exciting time for your industry
MediSpa Staff
In an industry valued at $16.4 billion in 2022 be sure to remain at the leading edge and introduce Nutridermatology® to your client services
Allied Skin-Health Professionals
As an allied practitioner in the esthetic or holistic skincare arts, you'll love adding Nutridermatology® to your business
Meet your teacher
Star Khechara
Skincare formulator and beauty author turned skin-nutrition researcher, Star distilled her 20+ years of skin-health knowledge into the world's first international accredited school to educate estheticians, dermatologists and allied skin-health practitioners in the emerging science of skin-nutrition, integrative skin health and nutridermatology®
Empty space, drag to resize
During my work as a skincare formulator I noticed that so many cosmetic ingredients were foods or food extracts, I realised that the power to beautify, treat and rejuvenate the skin was in diet, nutrition and food...not skincare products
Frequently asked questions
When does the course start?
As soon as pay your fees you'll be automatically enrolled to our online classroom and student portal. You'll be able to make use of all the facilities:
The community area for discussion groups and friendship
The 'best resources' area for all of your saved notes and access to our science library
There's a 'start' page which has our orientation video to help you navigate around the website and use all of the facilities.
Access to the actual training modules will open on Monday February 6th 2023
We are proud to be accredited by IPHM (International Practitioners of Holistic Medicine) which means a 3rd-party organisation has reviewed our course materials and verified them as being of a suitable standard for a practitioner.
As a graduate YOU will be able to join IPHM and be listed on their register And you'll have access to deals on your professional indemnity insurance
How long will it take to finish the course?
This advanced program will take you between 6-12 months to completed (depending on prior knowledge of the topics and how much time you have to study.

You do get 3 years to complete the program then lifetime access to the modules and graduate materials after graduation.
Do you offer team discounts?
We can offer substantial discounts on group enrolments (especially when there are more than 10 participants).
Send us an email with all the information:
[email protected]
Can I license this course for my team of staff?
We can offer a corporate license for this program, please contact us at
[email protected]
What happens after I've paid?
Once you've enrolled you'll be prompted to create your login and password so you can access our Virtual Learning Environment (VLE). Once inside you can move around and access everything you need:
There's a course area where your courses will be
There's a community area for discussion groups and friendship
There's a 'best resources' area for all of your saved notes and access to our science library
There's a 'start' page which has our orientation video to help you navigate around the website and use all of the facilities.
Is this course suitable for me?
This certificate is best for professionals and practitioners in the esthetics field:
Estheticians
Dermatologists
MediSpa staff
Skin Therapists
We are also open to enrolments from any of the following allied professionals who have a keen interest (or experience) in working with the skin:
Dieticians
Clinical Nutritionists
Naturopathic Doctors
The course is instant access and you've got 48 hours to review the course material and request a refund (you can do this via email or click the 'ask the instructor' button inside the course menu).

Please note refunds can't be given once you've started to complete modules so of you're unsure about the course have a look at the material first but don't complete or submit any quizzes, tests or assignments.
How will I use this Nutridermatology® knowledge with my own clients?
In many countries (especially many states in America) only a Registered Dietician, Registered Nutritionist or Doctor can give PERSONALISED nutrition advice.

The trick is in the word: personalised

Because most of our students are from a non-nutrition background we've created a VAST collection of licensed materials for our graduates to use with their own clients without breaking the law

This means you can help your client eat their way to healthy, rejuvenated and healed skin without needing a degree in Nutritional Medicine.

As with any client-facing service it is up to you to know the laws of the country, state or city that you practice in and to work only within your scope of practice


Yes, you can pay in monthly instalments. Here's how:
On the
payment form
you need to select t pay using your credit card (this symbol ) then you'll see a dropdown box where you can select either:
Pay once (pay in full)
Payment plan
Sometimes there's more than one payment plan so you can choose the one that suits your financial situation the best.
Please note that students won't be allowed to graduate while in debt to Skin Nutrition Institute so if you select a 12 month payment plan you'll need to take the full 12 months to study as you won't be allowed to finish before your payment plan does.
What course credits will I get?
This Diploma in Integrative Nutridermatology® approximately equal to 10 0CPD* Hours and 10 CEU**

These credits will be visible on your printable certificate when you pass your final exam and graduate from the course

*CPD: Continuing Professional Development
**CEU: Continuing Education Unit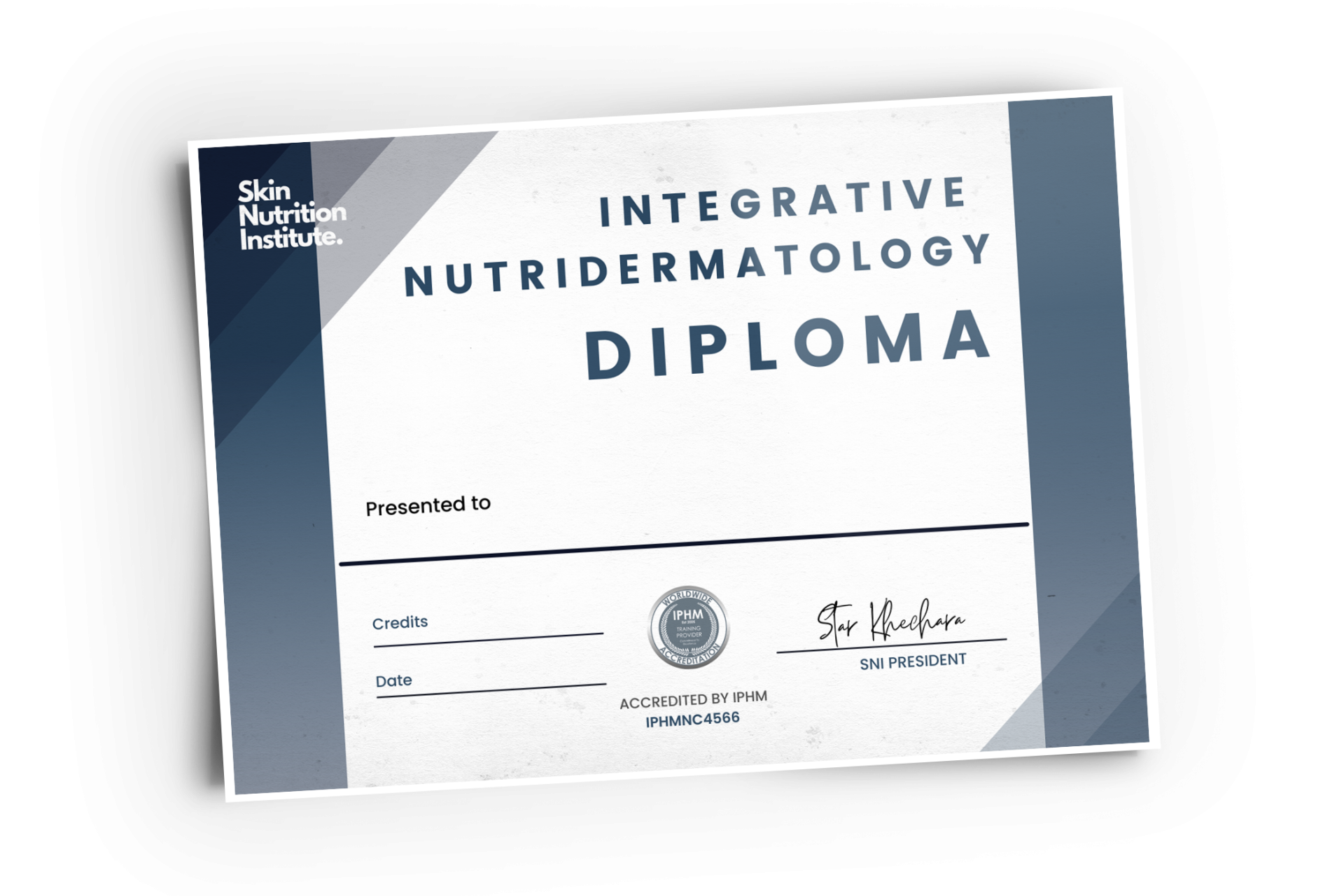 Sequential learning
Lessons and modules are designed to follow on from each other so you build your knowledge and expertise with each class.
Self-paced learning
Our online school is open 24/7 so you can study at your own pace and work around your busy life and family commitments
Evidence-based
Every single course, class and module has been created from 15+ years of solid peer-reviewed scientific information. You'll be given all of the references with each module so you can dive deeper into the topics or fact-check if you want to.
Accredited
We've earned international accreditation from IPHM and are currently in the process of gaining more accreditations so you can trust that our courses and methodologies have been checked by a trusted 3rd party.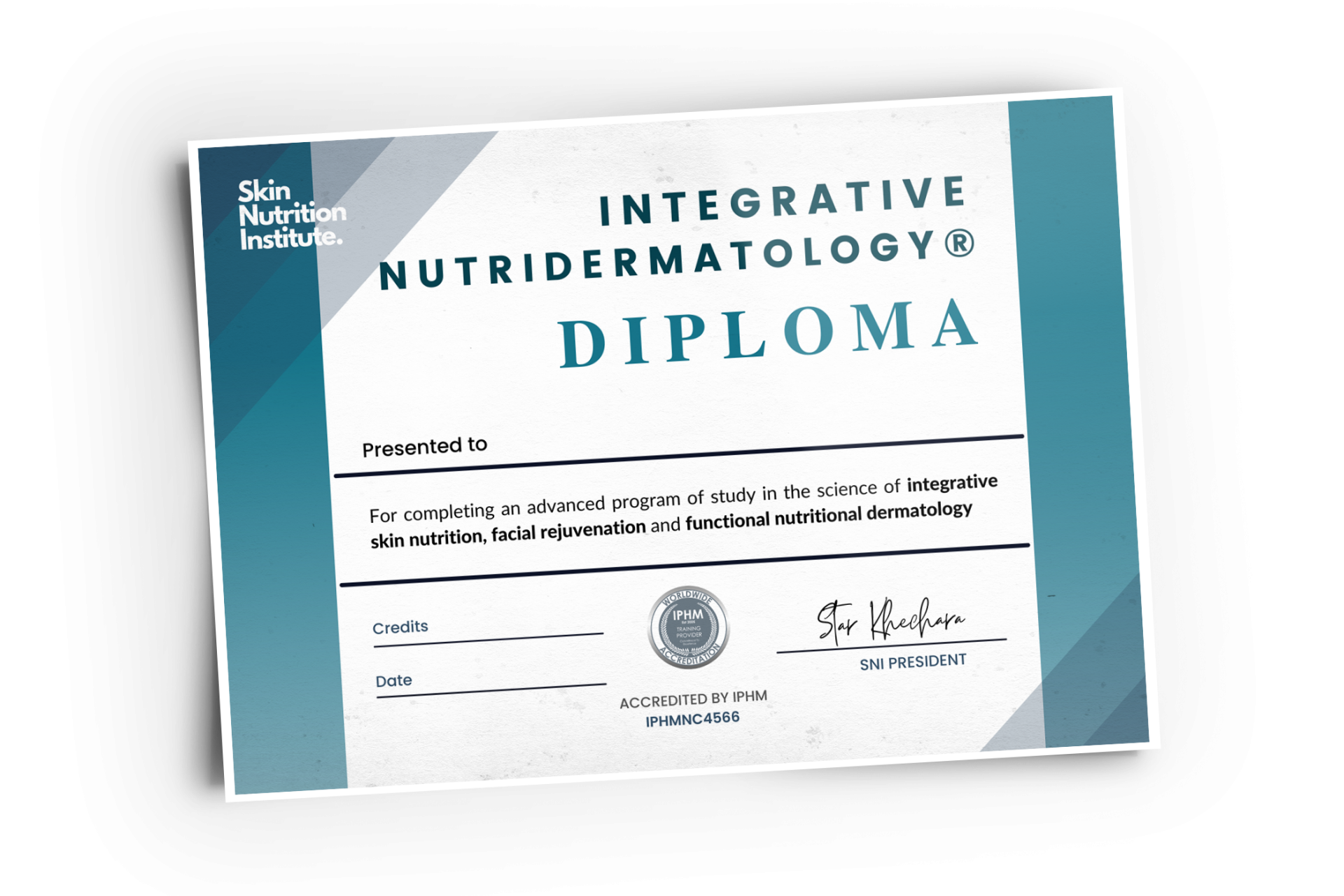 Growing science library
Inside our dedicated student portal there is an area called 'best resources' where you'll find a growing library of science research papers free to download.
Social networking
No more Facebook groups! We have our very own social networking site built right inside the student portal allowing you to make friends and 'study buddies'.
Discussion groups and threads
Every course has a dedicated discussion group so you can ask questions, post up ideas and thoughts, get feedback and interact with your fellow students on the same course.
Resources & materials
We are constantly creating new materials, interactive worksheets, handouts, printables and sharing useful news articles. You can even request new materials via the 'Ask the instructor' button within the student portal.
What do our students and graduates say?
Praise from the professionals that have studied and graduated from our courses
I was into nutrition and skin health a lot before I enrolled at the ABN. I had fairly healthy skin but the knowledge I learned during the beauty nutrition course took my skin to the next level.
What fascinated me the most during the course was to learn which nutrients are the most important for youthful skin, in which foods you can find them and that they all have a slightly different effect on the skin, such as getting a beautiful glow or repairing sun damage
Shirley Vivien Heubach | Germany
Graduate
Yoga Teacher and Beauty Nutrition Advisor
I am still fascinated how Star manages to share her scientifically sound knowledge with us in an easily understandable way. The slides are to the point and filled with examples, which helps enormously to implement the exciting facts into practicable advice for our clients
Christina Ehrhardt | Germany
Dipl.Oecotroph. - Nutrition & Scientific Affairs
Being a Registered Holistic Nutritionist and an Esthetician, going into the course I already had a very good understanding of nutrition and the skin. The Academy of Beauty Nutrition really helped me to tie them both together which in turn helped me to take my business to a whole new level. I love that I am able to offer my clients my added knowledge and transformative properties of beauty foods so they too can experience for themselves having younger, healthy and glowing skin
Jessica Luft | Ontario, Canada
Glowing Skin Begins Within
Loved the layout of the course materials, felt seamless working through the content. Star is a pro, excellent at explaining things which could be otherwise complicated but her delivery and down to earth approach make learning this enjoyable

Michelle Tyson | Australia
Founder of SEED skincare
Licensed materials for your clinic and clientele
After graduation you'll be given your Integrative Nutridermatology® handbook and access to a vault of resources and materials licensed for use with your clients as part of your clinical practice.

Never make another PDF again!
Your Nutridermatology® Handbook
This is your 'bible'. A comprehensive guidebook of everything you need to be an excellent Integrative Nutridermatology® Practitioner.

We want you to succeed so we created this enormous full colour reference guide so you'll also have the information you need to at your fingertips
CLIENT VAULT
A growing library of client materials licensed for your business use:
Forms
Checklists
Shopping lists
Factsheets
Menus and recipes
Templates
Recipe vault for your clients
You'll get access to all of our recipe cards and we've also created an extra resource to help your clients. Curated Pinterest boards for every single skin disorder, all your clients need is a free Pinterest account and the links we give you.
Pinterest boards include recipes from all over the world so your clients have even more options to choose from.
Need thinking time?

Download the course brochure

Now check your inbox. Be sure to also check your spam folder or promotions tab

We'll also add you to our insiders email list so you'll be in-the-know with current skin nutrition news, free and paid classes, and other valuable content

.

You can unsubscribe any time 👉🏼 Privacy Policy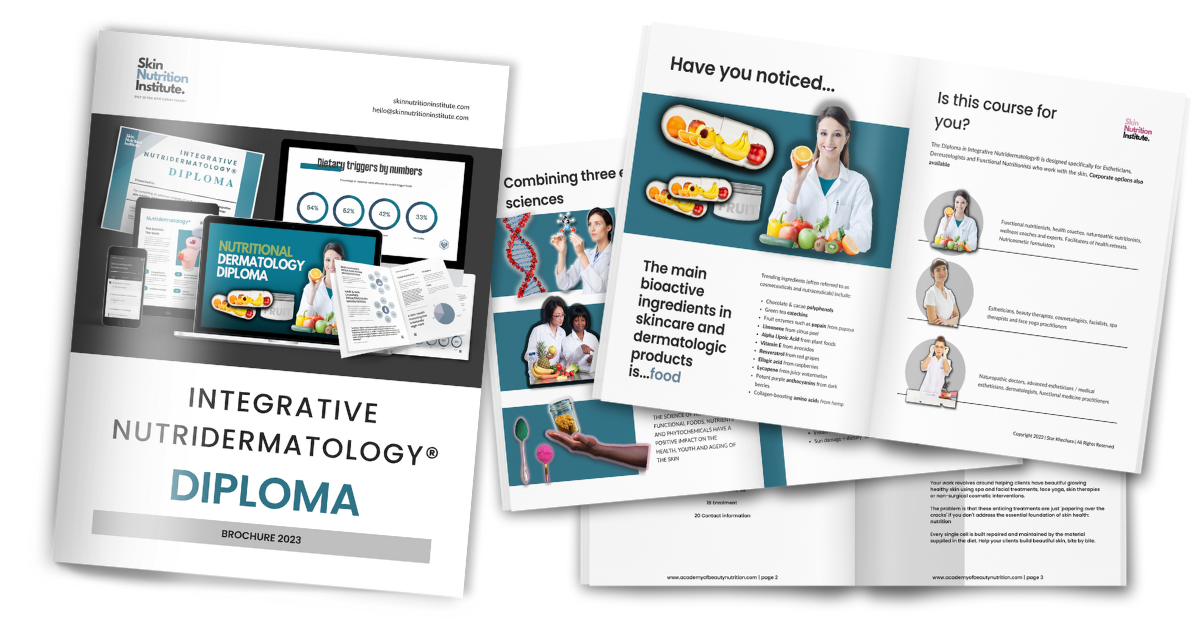 Before you go...
Download the course information as a PDF to read through at your leisure.
We'll also add you to our insiders email list so you'll be in-the-know with current skin nutrition news, free and paid classes, and other valuable content
.
You can unsubscribe any time
👉🏼 Privacy Policy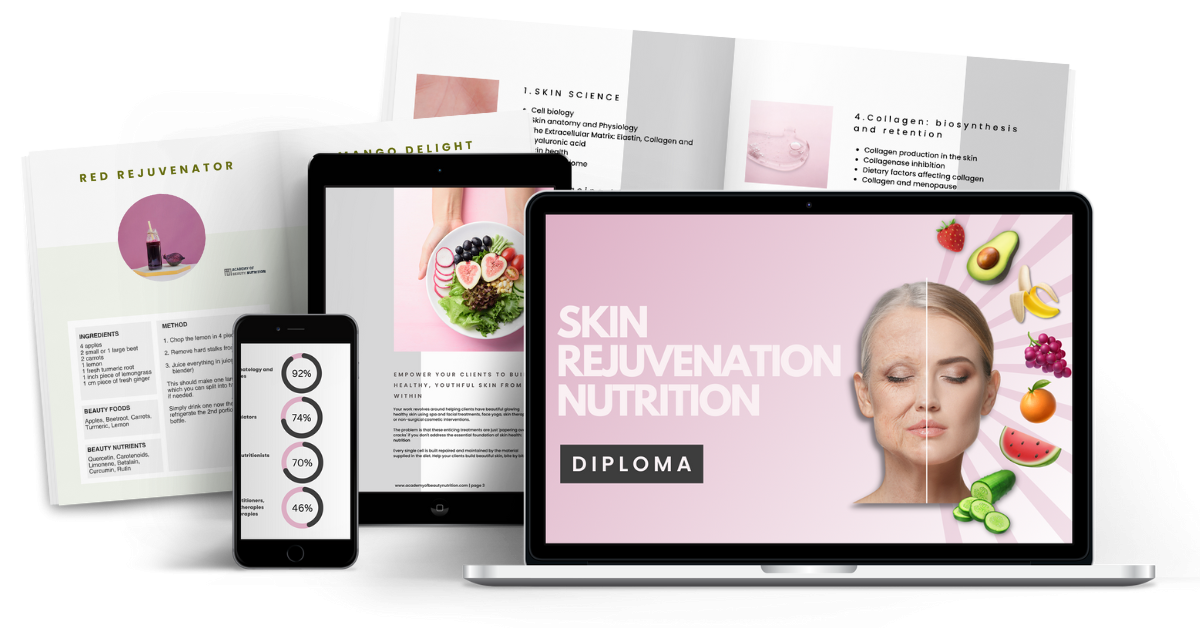 Get qualified in
Skin Rejuvenation Nutrition
with an accredited Diploma
Enrolment now open
Created with