Accredited Masterclass
How collagen is synthesised, maintained and protected by diet and phytochemicals
accredited internationally
Collagen is not a food. Collagen is not a nutrient. Collagen is a protein the body produces. Learn how...
As a skin health practitioner, understanding the importance of collagen in maintaining healthy skin is essential. While many people turn to collagen supplements to support their skin health, the truth is that the best way to build and maintain collagen levels is through a healthy, balanced diet rich in specific nutrients. By taking the time to learn about collagen biosynthesis and dietary intervention, practitioners can educate their clients on the specific plant-based foods and dietary patterns that can help support collagen production. This approach not only helps maintain optimal collagen levels but also provides a range of other health benefits.
No supplements. Just plant-based dietary interventions
The consumption of certain foods and nutrients is a more sustainable and cost-effective way to support collagen production than relying on supplements. While collagen supplements can provide some benefits, they lack the full spectrum of nutrients needed to support collagen production and overall skin health.
Why take this class in Collagen Biosynthesis and Diet?
🧬 You'll understand the complex (yet exciting) biomechanics of protein synthesis at the cellular level and why plant-based proteins are superior for cellular health and skin-health
🧬 You'll get an indepth education into the multi-step collagen formation in the fibroblasts and the nutrients required for this process.
🧬 You'll learn that certain foods and dietary patterns breakdown collagen faster and prevent collagen production, and that collagen health is about preventing collagen destruction as much as it is about providing the dietary building blocks
You'll become an expert in the dietary protocols for collagen biosynthesis for skin health
Find out about MMPs, how the destroy collagen and which foods and phytochemicals prevent this
Discover glycation and how insulin resistance and high fat diets damage and destroy collagen
Did you know that gut bacteria can synthesise some of the necessary amino acids for collagen production?
Topics covered in this class
Click the down arrow on the side to expand each topic 👇🏽
Plant protein v animal protein
The myth of complete v incomplete protein and amino acid pool
Amino acids and peptides
Protein digestion and assimilation
The ribosome
Protein recycling
PRAL
Collagen: the molecule
Types of collagen
Collagen and skin ageing
Menopause and collagen
Collagen syntheses
Glycation
MMPs
UV damage
Dietary patterns that destroy collagen
🧬 Dietary Interventions to maintain or increase collagen
Diet and lifestyle that protects and builds collagen
Plant-based diet
Polyphenols
Functional foods
Guaranteed Security using one of the most advanced encrypted systems on the market.
The information in this page is being processed and encrypted securely using industry-leading encryption and fraud prevention tools.
This certified masterclass is perfect if you're working with clients' skin-health at any level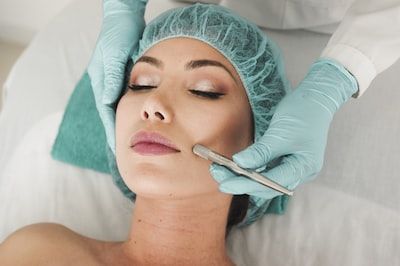 Estheticians, Dermatologists & MedSpa clinics
Collagen is a major worry for your clients and they depend on for your up-to-date knowledge and evidence-based advice. We've done the research so you don't have to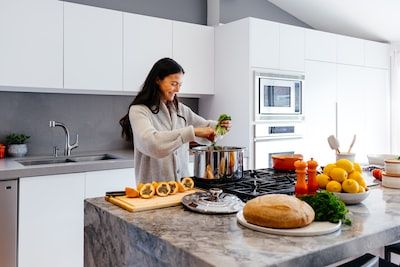 Nutritionists, health coaches and naturopaths
Help your clients avoid expensive unnecessary collagen supplements and help them build (and protect) their own human collagen using holistic dietary methods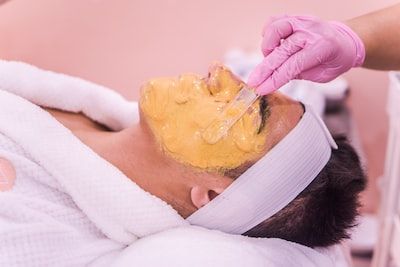 Facialists, Face Yoga Practitioners and holistic skin therapists
Your hands-on techniques can help lift and firm the skin so take that to the next level with this course and help your clients build up their skin collagen, naturally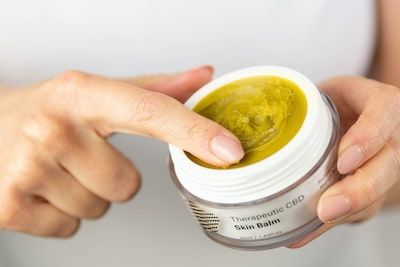 Formulators of skincare, health food, juices and nutricosmetics
I'm sure you hear your clients ask about collagen but it's not something you can add to skincare as the molecules are too big for percutaneous absorption. With this course you can help your clients use healthy food as their collagen treatment
Why study with us?
This class has been created to further your advance your knowledge and grow your integrative skin-health career.
Empty space, drag to resize
Evidence-Based
Every course we teach - from mini-classes to our 1-year diploma - is based on peer-reviewed research.
Fully referenced
You get access to the full citation list so you can fact-check the science with confidence.
Industry specific
This specialised skin hydration class has been created specifically for professionals and practitioners in the skin sciences or nutritional sciences.
Epic student support
No matter what class you take with us, you're always treated as a valued student and you get lifetime access to our student portal for social networking, study groups and learning support.
Growing science library
Inside our dedicated student portal there is an area called 'best resources' where you'll find a growing library of science research papers free to download.
Social networking
No more Facebook groups! We have our very own social networking site built right inside the student portal allowing you to make friends and 'study buddies'.
Discussion groups
Every course has a dedicated discussion group so you can ask questions, post up ideas and thoughts, get feedback and interact with your fellow students on the same course.
Certificate & Credits
This masterclass gives you an accredited certificate with three CPD / CE credits.
Meet your teacher
Star Khechara
Skincare formulator and beauty author turned skin-nutrition researcher, Star distilled her 20+ years of skin-health knowledge into the world's first international accredited school to educate estheticians, dermatologists and allied skin-health practitioners in the emerging science of skin-nutrition, integrative skin health and nutridermatology®
Empty space, drag to resize
During my work as a skincare formulator I noticed that so many cosmetic ingredients were foods or food extracts, I realised that the power to beautify, treat and rejuvenate the skin was in diet, nutrition and food...not skincare products
Frequently asked questions
YES! As soon as your enrol and pay the fees you'll have instant access to the class and all of the class materials.
Video lesson
Class notes
Lesson quiz
Certificate of Attendance
As a school we are proud to be accredited by IPHM (International Practitioners of Holistic Medicine) and the IGCT (International Guild of Complementary Therapists) the which means a 3rd-party organisation has reviewed our course materials and verified them as being of a suitable standard for a practitioner.

As a graduate YOU will be eligible to join IPHM and IGCT and be listed on their register And you'll have access to deals on your professional indemnity insurance.

Star Khechara is also an active member of the Plant-Based Health Professionals
How long will it take to finish the class?
This masterclass will take about 2 hours to complete
Do you offer team discounts?
We can offer substantial discounts on group enrolments (especially when there are more than 10 participants).
Send us an email with all the information:
[email protected]
Can I license this class for my team of staff?
We can offer a non-exclusive licensing for this class, please contact us at
[email protected]
What happens after I've paid?
Once you've enrolled you'll be prompted to create your login and password so you can access our Virtual Learning Environment (VLE).
Once inside you can move around the portal and access everything you need:
There's a course area where your courses will be
There's a community area for discussion groups and friendship
There's a 'best resources' area for all of your saved notes and access to our science library
There's a 'start' page which has our orientation video to help you navigate around the website and use all of the facilities.
Is this class suitable for me?
This class is aimed at professionals and practitioners in these fields:
Estheticians
Dermatologists
MediSpa staff
Skin Therapists
Skincare formulators
Beauty therapists and facialists
Health coaches
Functional food and nutrition practitioners
Will I get a certificate?
Yes,. you will be able to download a personalised Certificate of Attendance when you finish the class and the class quiz.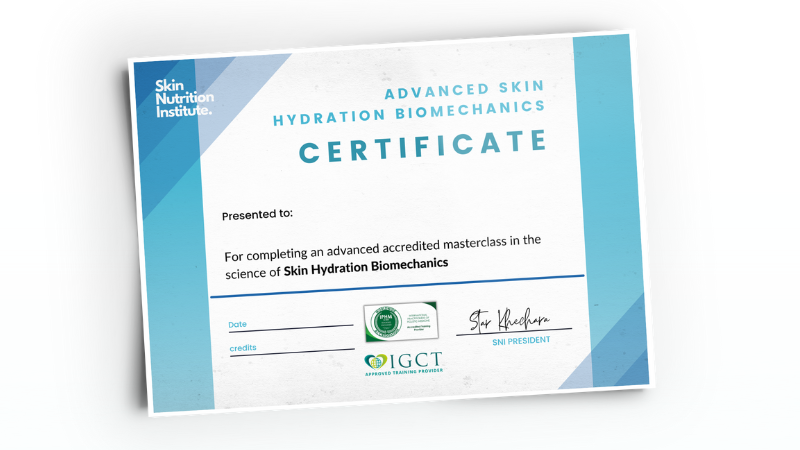 Save 50% if you enrol onto all three masterclasses
\Learnworlds\Codeneurons\Pages\ZoneRenderers\CourseCards
Save $72
Enrol onto this class for just $197 $125 today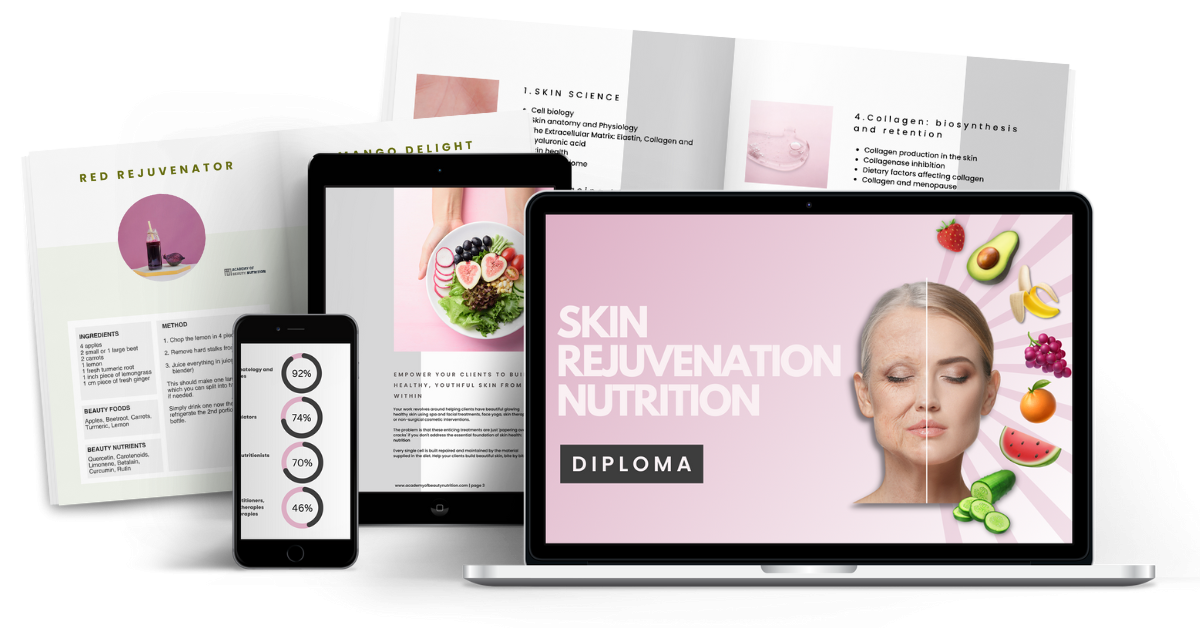 Get qualified in
Skin Rejuvenation Nutrition
with an accredited Diploma
Enrolment now open
Created with