ACCREDITED CERTIFICATE
Botanical Superfoods for Skin Health
Learn to create exciting superfood blends to sell to your clients or the public in this 6 week course
15 CPD hours
1 CEU credit
6 Modules
15 video classes + workbooks
Assessment
Module quizzes, tasks and final exam
Certificate
Accredited by IPHM and IGCT
Did you know that superfood powders are big business?
Powerful superfood powder blends intelligently formulated are valuable to both your clients and your business income. You can formulate just for your clients or create specialised blends to sell to the public.

It's an incredible opportunity to give extra support to your nutrition or skin-health clients. Rather than selling synthetic supplements (which are mostly ineffective) you can take a truly holistic and organic approach with natural potent botanicals. Pure plant medicine that your clients and customers can easily add to their smoothies, juices, desserts, snacks, sauces and salad dressings.
"The global superfood powder market size is expected to reach USD 7.11 billion by 2027, according to a new report by Grand View Research, Inc., expanding at a CAGR of 6.4% over the forecast period. The demand for the product has been growing significantly over the world owing to its various health benefits. It helps to improve the immune system, natural detoxification, and metabolism. It is also a rich source of vitamins, fibers, and minerals. With the shifting consumer preference towards organic and natural diet, the food and beverage industry has been incorporating this product in several products.
https://www.grandviewresearch.com/press-release/global-superfood-powders-market
Botanical superfoods are fascinating 'skin medicines' rich in phytochemicals, epigenetic modifiers and nutricosmetic compounds that are subject to thousands of scientific studies
Spirulina
The blue pigment phycocyanin protects against UV damage. Protective against blue light. Protective against telomere shortening.
Sea Buckthorn
Contains Quercetin which is an epigenetic modifier and Sirtuin (youth protein) activator. Has an inhibitory effect on AGE formation and is also a Senolytic agent
Beetroot
Red pigments commonly found in Beetroot, betalains are powerful antioxidants that combat oxidative stress in the body. Betalains are also being research for their epigenetic potential.
Why take this Superfood Formulation for Skin Health course?
🌺 You'll build on your knowledge of botanicals and superfoods by learning the skin-health applications for these functional superfoods

🌺 You'll master the art of formulating and blending multiple botanicals to create powerful solutions for specific skin problems.

🌺 You'll learn how to turn your new superfood blending skills into a stand-alone business or a added income stream to your skincare, nutrition or skin-therapy business.
This course is perfect for you if you are...
A FOOD CREATOR
If you're a health food business, juice bar owner or retreat manager you'll be able to make formulations to use directly in your products or to sell as separate skin-solutions; like how Moonjuice (in LA) does by using their own 'dusts' in their smoothies AND selling the dusts directly to customers in store.
A HEALTH STORE OWNER
If you're a health store owner or health product company you'll learn all the up to date science on the trending nutricosmetic foods and how to create sellable products that can be mass produced.
A SKINCARE CREATOR
If you're a skincare formulator you'll be able to use these superfood powders directly in your skincare products AND create blends for clients to add to their smoothies etc
A NUTRITIONAL THERAPIST
If you're a nutritionist or health coach you can formulate beauty superfood powders to sell to your clients privately to enhance the nutritional plans you'll be guiding them through.
AN ESTHETICS PRACTITIONER
If you're an esthetician, dermatologist or spa therapist you can formulate in-house solutions for your clients to take home to use between treatments
A SKIN-HEALTH ENTREPRENEUR
NUTRICOSMETICS ARE A GROWING INDUSTRY FOR YOU TO LAUNCH A SIMPLE BUT PROFITABLE SKIN-HEALTH PRODUCT
Topics covered in this accredited course
Click the down arrow on the side to expand each topic 👇🏽
Learn about nutricosmetics, nutraceuticals and functional phytochemicals.
Study antioxidant potential and ORAC scores of superfood botanicals
Learn how to properly research superfoods so you can gather scientific evidence to help you formulate

How to set up a superfood formulation lab easily in your own home
About GMP and GLP and how to keep records
Important equipment
How to create your own powders from whole driend botanicals

How to start creating a formula for a specific purpose
Creating weight-based and percentage formulations for batching and scaling up
How to record formulas and batches (all templates included)

🌸 The superfoods business
Trends and superfoods business research
Selling superfoods
Branding and logo
Nutritional data labels
Legalities and rules

All fees are in USD (American Dollars).

To pay in 3 monthly instalments select the card symbol


Guaranteed Security using one of the most advanced encrypted systems on the market.
The information in this page is being processed and encrypted securely using industry-leading encryption and fraud prevention tools.
Why study with us?
This class has been created to further your advance your knowledge and grow your integrative skin-health career.
Empty space, drag to resize
Evidence-Based
Every course we teach - from mini-classes to our 1-year diploma - is based on peer-reviewed research.
Fully referenced
You get access to the full citation list so you can fact-check the science with confidence.
Industry specific
This specialised skin hydration class has been created specifically for professionals and practitioners in the skin sciences or nutritional sciences.
Epic student support
No matter what class you take with us, you're always treated as a valued student and you get lifetime access to our student portal for social networking, study groups and learning support.
Growing science library
Inside our dedicated student portal there is an area called 'best resources' where you'll find a growing library of science research papers free to download.
Social networking
No more Facebook groups! We have our very own social networking site built right inside the student portal allowing you to make friends and 'study buddies'.
Discussion groups
Every course has a dedicated discussion group so you can ask questions, post up ideas and thoughts, get feedback and interact with your fellow students on the same course.
Certificate & Credits
This accredited gives you an accredited certificate with 15 CPD / CE ours and 1 CEU credit. Accredited by IPHM and IGCT
Meet your teacher
Star Khechara
Skincare formulator and beauty author turned skin-nutrition researcher, Star distilled her 20+ years of skin-health knowledge into the world's first international accredited school to educate estheticians, dermatologists and allied skin-health practitioners in the emerging science of skin-nutrition, integrative skin health and nutridermatology®
Empty space, drag to resize
During my work as a skincare formulator I noticed that so many cosmetic ingredients were foods or food extracts, I realised that the power to beautify, treat and rejuvenate the skin was in diet, nutrition and food...not skincare products
Frequently asked questions
YES! As soon as your enrol and pay the fees you'll have instant access to the class and all of the class materials.
15 video lessons
All class notes
All templates and ebooks needed
Lesson quiz
Exam and Certificate
As a school we are proud to be accredited by IPHM (International Practitioners of Holistic Medicine) and the IGCT (International Guild of Complementary Therapists) the which means a 3rd-party organisation has reviewed our course materials and verified them as being of a suitable standard for a practitioner.

As a graduate YOU will be eligible to join IPHM and IGCT and be listed on their register And you'll have access to deals on your professional indemnity insurance.

Star Khechara is also an active member of the Plant-Based Health Professionals
How long will it take to finish the class?
This course will take about 10-15 hours to complete and because it is self-paced you can choose to move through the course fast or slowly.
Do you offer team discounts?
We can offer substantial discounts on group enrolments (especially when there are more than 10 participants).
Send us an email with all the information:
[email protected]
Can I license this class for my team of staff?
We can offer a non-exclusive licensing for this class, please contact us at
[email protected]
What happens after I've paid?
Once you've enrolled you'll be prompted to create your login and password so you can access our Virtual Learning Environment (VLE).
Once inside you can move around the portal and access everything you need:
There's a course area where your courses will be
There's a community area for discussion groups and friendship
There's a 'best resources' area for all of your saved notes and access to our science library
There's a 'start' page which has our orientation video to help you navigate around the website and use all of the facilities.
Is this class suitable for me?
This class is aimed at professionals, practitioners and entrepreneurs in these fields:
Estheticians
Skin Therapists
Skincare formulators
Beauty therapists and facialists
Face Yoga practitioners
Health coaches
Functional food and nutrition practitioners
Health food business owners
Health business startups

Will I get a certificate?
Yes,. you will be able to download a personalised Accredited Certificate when you finish the final exam.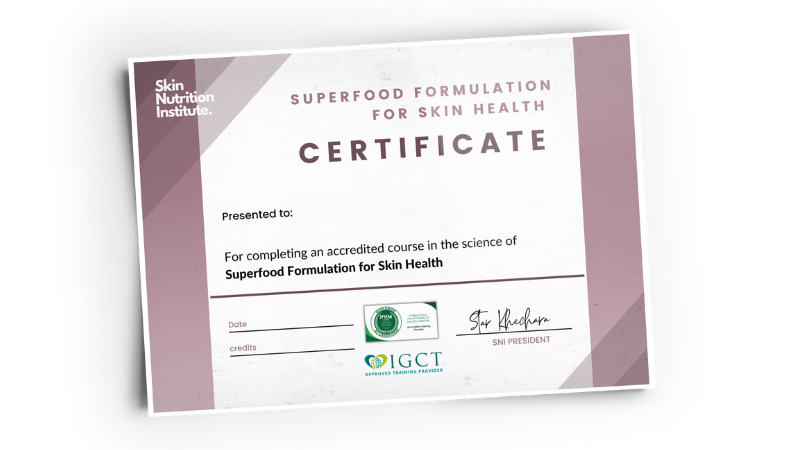 Created with