Skin Rejuvenation Nutrition Diploma
AGE IS AN INSIDE JOB
'Ingestible beauty' is a multi-BILLION dollar industry because the demand for skin nutrition and holistic anti-ageing services is HUGE. Turn your passion for integrative skin-health into a profitable business or new income stream with our accredited Diploma in Skin Rejuvenation Nutrition. Become a Skin Rejuvenation Nutrition Practitioner and grab YOUR share of a $8.4bn industry
Sadly, so much of what you've been taught about skin-health or nutrition is
wrong.
It's not your fault.
Until very recently the world of esthetics + skincare was a million miles away from the world of nutrition. But now these two industries are becoming one HUGE industry and you'll get left behind if you don't embrace the new paradigm of 'beauty from within'.

Your mission (should you choose to accept it) is to unlearn any 'fluff' or misinformation you've been taught and re-programme your brain 🧠 with evidence-based skin nutrition science because you want to feel confident and competent when working holistically with clients to rejuvenate and beautify their skin.

But first, you must walk through the valley of uncomfortable truths...

Ok, I'm being dramatic and imagining that we are both in that scene in The Never-Ending Story where Atreyu faces himself in the Magic Mirror Gate.

THE VALLEY OF UNCOMFORTABLE TRUTHS
If the Oracle's eyes start opening...RUN! ⚡
YOUTHFUL BEAUTIFUL SKIN IS THE OUTER EXPRESSION OF HEALTH AT THE CELLULAR LEVEL.

If you're not creating health at the cellular level, you're not really rejuvenating the skin, you're just papering over the cracks.

Remember the story of the three little pigs? Two of the pigs built houses of straw and twigs but the extra clever piggy used bricks for a strong house that would withstand the wolf attack. Always use the best materials to build skin-health from the ground up with a healthy foundation of nutrition.


Every skin cell is built, repaired and maintained by the materials provided in the diet. No exceptions!
THERE ARE NO NEUTRAL FOODS.

"Everything in moderation is a lie". Every bite of food, every meal and snack will show up on the skin for better or for worse. Food can be the skin's most powerful cosmetic and rejuvenator or most feared enemy.

There are no neutral foods when it comes to cellular rejuvenation. Each food contributes high-quality materials for building skin-health and cellular rejuvenation or it unleashes compounds that destroy cellular health, skin structures and beauty.
PLANT FOODS ARE THE KEY TO UNLOCKING AGE-REVERSAL AND SKIN-HEALTH

Forget the trends and the marketing buzzwords. Skin doesn't need collagen powders extracted from cow bones or fish innards. Skin doesn't need complicated, expensive supplements and protein shakes. Nothing from an animal can reverse ageing at the cellular level in a human (otherwise we'd all be cannibals eating human collagen).

Overwhelmingly, the scientific evidence for skin-health and rejuvenation shows that fruits, vegetables, nuts, seeds, seaweeds and botanicals are the only proven foods to fight - and reverse -ageing at the cellular level.

Animal products and meat-based diets cause faster ageing and contribute to skin disorders.

IF YOU ARE AN ADVOCATE OF 'CRUELTY FREE' BEAUTY BUT YOU PROMOTE MEAT-BASED DIETS AND COLLAGEN POWDERS TO YOUR CLIENTS, YOU'RE NOT PRACTISING CRUELTY-FREE BEAUTY.

THE SCIENTIFIC EVIDENCE IS STACKED IN FLAVOUR OF PLANTS AND A PLANT-BASED DIET. SO WE ALL WIN: YOUR INCOME, YOUR CLIENTS' SKIN, THE PLANET AND THE ANIMALS.

⚠️ You don't need to be a vegan to do this program but If you want to ignore the science and sell collagen or promote keto, paleo, grass-fed coffee and other forms of skin-abuse. This program isn't for you.
You
survived

the valley of uncomfortable truths!
Now to shock your brain even more 🧠 ⚡
...you already know a lot of skin nutrients without realising it
How many of these ingredients do you recognise from skincare products or 'beauty supplments'
Cacao polyphenols. EGCG / catechins. Papain. Bromelain. Limonene. Alpha Lipoic Acid. Vitamin E. Resveratrol.. Ellagic acid. Lycopene. Anthocyanins. Avocado oil. Quercetin. Beta-glucan. Sorbitol. Mangoferin. Silica. Biotin. Almond oil.
NEWSFLASH: those ingredients are all nutrients or phytochemicals extracts from
food.
Natural indie beauty brands (and even big commercial ones) rely on food as a source of 'bioactive' ingredients in their formulations in order to sell them. Without these potent extracts many products would just be oils, water and emulsifiers - and who would buy that?

Don't get me wrong. I LOVE natural skincare as much as YOU do.
After all, I am the author of The Holistic Beauty Book
But there's a final
#UncomfortableTruth

you need to hear...
SKIN IS NOT A STOMACH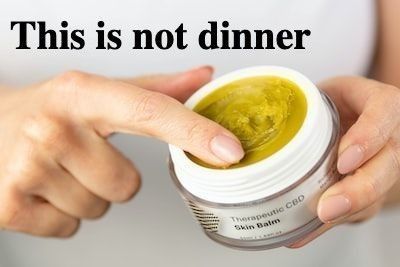 #UNCOMFORTABLETRUTH4

I keep my skincare potions simple these days because I know that the skin is not designed to be a stomach, the skin has a limited ability to absorb nutrition because our bodies have a proper system for that: the digestive system.

The ONLY scientifically-proven way to infuse your skin with high-quality nutrients, phytochemicals and hydration is by eating those ingredients in the diet, as food.

Natural skincare products have their place of course. I love formulating my own facial masques, mists and serums.

But when it comes to reversing age, undoing sun damage, slowing down ageing and collagen loss or healing a skin disorder, it's all about health at the cellular level and that - my curious kitten - can only be done with FOOD.
Let's fill your hungry brain with certified organic, 100% natural, plant-based skin nutrition science
You have 8 challenging missions to complete and then you must fight the final boss take the final test before you earn the coveted title of Skin Rejuvenation Nutrition Practitioner and are ready to go on your quest to rejuvenate the faces of planet Earth.
Cell biology
Skin anatomy and Physiology
The Extracellular Matrix: Elastin, Collagen and Hyaluronic acid
Skin health
Skin Microbiome
2: Skin Ageing Pathophysiology & Biomechanics
Oxidation
Glycation (endogenous and exogenous)
Cellular Dehydration
Inflammaging
Garbage-ing (autophagy, MTOR and IGF-1)
Malnutrition
Autointoxication / Metabolic Endotoxaemia
Microbiome and the gut-skin axis
Telomere shortening and cellular senescence
Hormonal Dysfunction & Menopausal Ageing
Insulin resistance
Photoageing & Dietary Sunscreen
4. Collagen Biosynthesis and Retention
Protein synthesis: catabolism
Protein synthesis: anabolism
Collagen biosynthesis
Collagen destruction
Pro-collagen diet
3. Integrative Skin Nutrition
The Facelift Food Formula
Dietary Skin-Ageing Index™ (DSAI)
Macronutrition for skin health
Micronutrition for skin health
Fibre: beauty and the bowel
Foods that age / foods that rejuvenate
5. Nutrigenomics: Nutritional Epigenetics
DNA and Genes 101

Epigenetics and gene modification

Epigenetics and skin-ageing

Epigenetic compounds in foods
Superfoods & botanicals
Eat the Rejuvenation Rainbow
Sirtuins & Senolytics
Skin-Ageing inhibitors
50 Key Functional Facelift Foods
Functional Facelift Food scoring matrix
7. Anti-Ageing Phytochemicals & Nutriceuticals
The Phytochemical family tree

Phenols + Polyphenols

Terpenes + Carotenoids

Polysaccharides

Glucosinolates

Betalains
Skin Rejuvenation: Nutritional Interventions
Dietary protocols for glycation, inflammaging, dehydration and oxidation

Nutritional strategies for menopause, hormonal imbalance and insulin resistance

Functional foods for cellular rejuvenation: telomere lengthening, cellular senescence, senolytics and sirtuin activators.

Modulating genes with epigenetic modulators in foods.

Specific nutrient + phytochemical interventions for rejuvenation and skin-ageing

Collagen boosting foods and nutrients

Targeted dietary plans for overall age-defiance and cellular rejuvenation

Dietary strategies for gut health, skin microbiome and metabolic endotoxaemia
You are now a
legend

amongst skin-health practitioners
I am 71 years old! That's what it does. It stops the aging process dead in its tracks and forces it into retreat. Drink that potion and you'll never grow even one day older.

🎬 Isabella Rossilini's character in the movie Death Becomes Her

You're a true Skin Rejuvenation Superhero because you don't need snake-oil and gimmicks, you have a much more powerful potion: plant-based foods and phytochemicals
Now is the perfect time to qualify in
Skin Rejuvenation Nutrition
🌺
If you work in skincare, facials or esthetics you will get left behind if you don't start training in skin-nutrition now. Beauty + nutrition are two industries that are RAPIDLY become one industry.
Your business needs to stay relevant in a world that's always changing.
Don't make the mistake of staying the same and offering the same client services that you've always done.
Empty space, drag to resize
🥗
and if you already work in health coaching, nutrition or naturopathic medicine you can
get a jumpstart in this newly emerging field of 'skin nutrition and rejuvenation',
and use your nutrition skills to help clients regenerate and beautify their skin.
Grab YOUR share of a multi-billion Dollar industry
Skin nutrition aka 'ingestible beauty' and 'nutricosmetics' is one of the fastest growing niches in the wellness sector. Ignore it at your peril. Whether you're the owner of a large health & beauty clinic or a solo practitioner - you need to keep moving with the times to survive as a business.

Look at what the marketing analysts and trend forecasters are all saying. The collision of food, beauty + nutrition is BIG BUSINESS and its here to stay.

Consumers are also taking a much wider view of 'inside-out beauty' and what can impact their skin health. 67% appreciate the link between good skin health and overall wellbeing – an increase of 13% between 2018 and 2021
You can get qualified and ready to adapt to this new industry of 'skintrition' or you cant wait. But you'll miss the boat if you wait too long. early adopters always come out on top.

DON'T WAIT TOO LONG. Your competitors are already adapting their products, services and business model to welcome in this new era.

The world's leading Market Intelligence Agency Mintel say
Mintel research shows that about 7 in 10 consumers in Australia and New Zealand agree that a healthy diet can be more beneficial to skin/hair than the products you use. Mintel.com
Ageless skin is coveted and has been an ongoing target area for the skincare industry. Even though science has long flagged the importance of proper nutrition and hydration, topical applications have reigned supreme so far.
The space is, however, experiencing a refocus, with "beauty-from-within" evolving into a mega-trend.
Ingestible beauty, adaptogens and the demand for natural products are emerging trends
Nutrition Insight
Diet in general, what we eat and drink, along with it being an important way to improve how we look and feel, is going to become an even bigger dialogue among consumers than it already is.
New Hope Network's NEXT data and insights team
ENROL TODAY 👇🏼
Become qualified as a Skin Rejuvenation Nutrition Practitioner and give your customers what they are asking for: beauty from within
To pay in monthly instalments please select the credit card option
Guaranteed Security using one of the most advanced encrypted systems on the market.
The information in this page is being processed and encrypted securely using industry-leading encryption and fraud prevention tools.
ENROLMENT CLOSES IN
Get qualified and gain new clients with your professional certificate and web-badges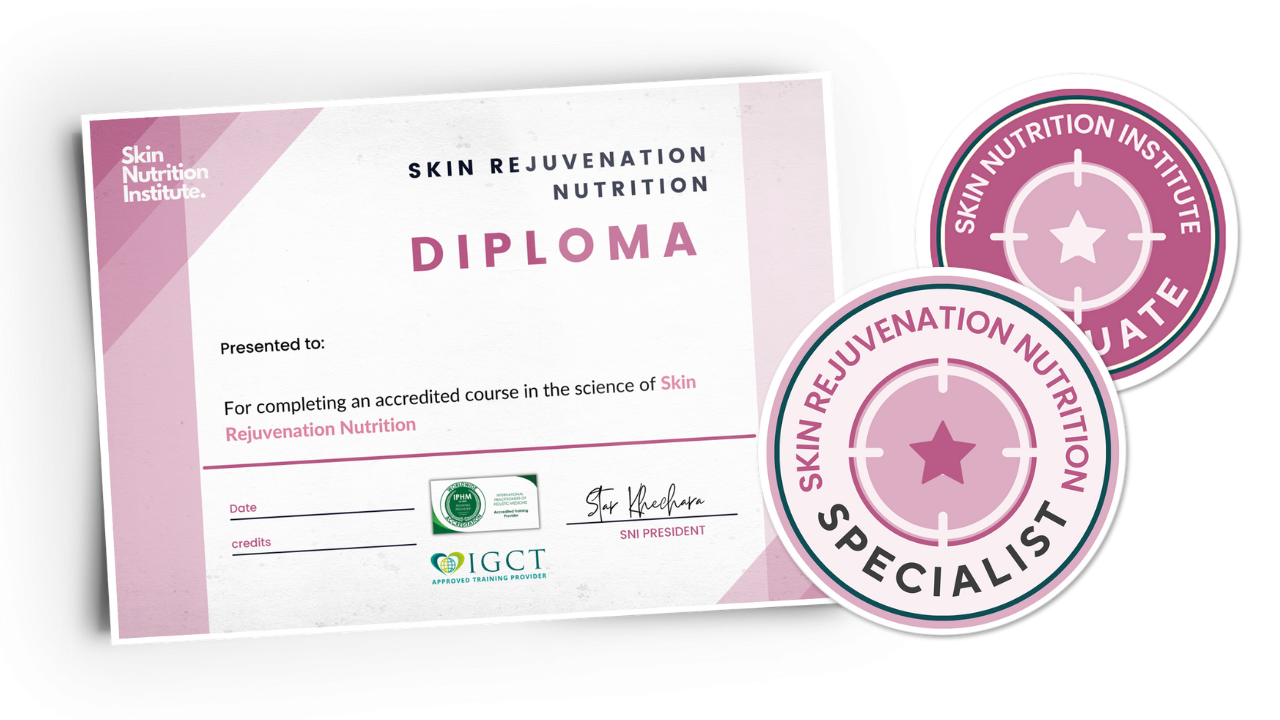 GET SUPERFOOD FORMULATION FOR SKIN HEALTH AS A
BONUS

COURSE

You'll get this $750 course for FREE when you enrol today.
This is the only accredited
skin rejuvenation nutrition

course in the world.

Grow your knowledge. Launch new services. Make more money

Empty space, drag to resize
Evidence-Based
Star Khechara did over a decade of research before developing this program for you.
Fully referenced
You get access to the full citation list so you can fact-check the science with confidence. Even Snopes can't disagree with us
Industry specific
This specialised program has been created specifically for professionals and practitioners just like YOU in the skin, health and nutritional industries.
Epic student support
Lifetime access to our student portal for social networking, study groups and learning support. And lifetime access to your course material
YOU GET A BRILLIANT GRADUATE SUPPORT PACKAGE
Never make another PDF again! You'll get a generous graduate package with a
Skin Rejuvenation Nutrition Guidebook
plus plenty of useful materials licensed for you to use with your own clients:
Recipe sheets
Shopping lists
Meal plant templates
Factsheets etc
Marketing materials

Empty space, drag to resize
OUR COURSES
Learn new skills
Online learning courses are an outstanding opportunity to learn new, marketable skills. These courses can be fully accessible by anyone who has access to an internet connection.
Empty space, drag to resize
OUR COURSES
Master your field
Our school provides a great way for you to learn about various professions and fields in a fun and exciting way. We make it easy for you to learn the subject matter, through videos and lessons.
Empty space, drag to resize
We welcome free-thinkin', science-lovin', green tea drinkin', smoothie blendin', salad choppin', superfood-sprinklin' health & beauty practitioners who hate industry BS, fluff and nonsense.

Is this you?
Estheticians and Skin Therapists
Natural Skincare Professionals
Functional nutritionists and health coaches
Facialists and Face Yoga Professionals
Estheticians and skin therapists
Natural skincare formulators
Naturopaths, nutritionists and dieticians
Face yoga practitioners, facialists etc
Our students love us
No blemishes anymore and fewer fine lines! My clients also experience the same amazing results in a short amount of time! I was into nutrition and skin health a lot before I enrolled.
SHIRLEY
Star is a true guide and expert in the emerging field of beauty nutrition. I love learning through this Academy
CLAUDIA
I've been working with Star for years in her programs and she always over delivers. She really knows her stuff. 🍉 She adds so much science-backed value and creative flair to everything she teaches 🍑 She shows up for her students 100% and walks her talk 🍓

HELEN
Even though I am already a skin/beauty/anti-aging expert with years of professional training, I believe it is continuing education that keeps us on top of our game and I'm thankful that Star has amazing programs that help do just that. I highly recommend Star's programs, as they are well thought out and beautifully executed
ANGELINA
Being a Registered Holistic Nutritionist and an Esthetician, going into the course I already had a very good understanding of nutrition and the skin. This course has really helped me to tie them both together which in turn helped me to take my business to a whole new level
JESSICA
Thank you Skin Nutrition Institute for enabling me to have a thriving business that offers so much to my clients.
Louise
I REALLY LOVE YOUR MODULES. BEING A NUTRITION SCIENTIST I REALLY APPRECIATE THAT EVERYTHING YOUR TEACH AS A SOUND SCIENTIFIC BASE


CHRISTINA
JOIN THE
SKIN REJUVENATION

REVOLUTION
Guaranteed Security using one of the most advanced encrypted systems on the market.
The information in this page is being processed and encrypted securely using industry-leading encryption and fraud prevention tools.
ENROLMENT CLOSES IN
Meet your teacher
Star Khechara
Skincare formulator and beauty author turned skin-nutrition researcher, Star distilled her 20+ years of skin-health knowledge into the world's first international accredited school to educate estheticians, dermatologists and allied skin-health practitioners in the emerging science of skin-nutrition, integrative skin health and nutridermatology®
Empty space, drag to resize
During my work as a skincare formulator I noticed that so many cosmetic ingredients were foods or food extracts, I realised that the power to beautify, treat and rejuvenate the skin was in diet, nutrition and food...not skincare products
YES! As soon as your enrol and pay the fees you'll have instant access to begin the program.

As a school we are proud to be accredited by IPHM (International Practitioners of Holistic Medicine) and the IGCT (International Guild of Complementary Therapists) the which means a 3rd-party organisation has reviewed our course materials and verified them as being of a suitable standard for a practitioner.

As a graduate YOU will be eligible to join IPHM and IGCT and be listed on their register And you'll have access to deals on your professional indemnity insurance.

Star Khechara is also an active member of the Plant-Based Health Professionals
How long will it take to finish the course?
This comprehensive practitioner program will take you from 6-12 months to complete depending on how much time you have to study.

You don't have to rush as you get lifetime access.
Do you offer team discounts?
We can offer substantial discounts on group enrolments (especially when there are more than 10 participants).
Send us an email with all the information:
[email protected]
Can I license this class for my team of staff?
We can offer a non-exclusive licensing for this course, please contact us at
[email protected]
What happens after I've paid?
Once you've enrolled you'll be prompted to create your login and password so you can access our Virtual Learning Environment (VLE).
Once inside you can move around the portal and access everything you need:
There's a course area where your courses will be
There's a community area for discussion groups and friendship
There's a 'best resources' area for all of your saved notes and access to our science library
There's a 'start' page which has our orientation video to help you navigate around the website and use all of the facilities.
Is this class suitable for me?
This class is aimed at professionals and practitioners in these fields:
Estheticians
Dermatologists
MediSpa staff
Skin Therapists
Skincare formulators
Beauty therapists and facialists
Health coaches
Functional food and nutrition practitioners
Will I get a certificate?
Yes, once you pass the final exam you will be able to download your personalised diploma certificate. It's a print-quality PDF. You'll also get digital badges to showcase on your website and social media channels.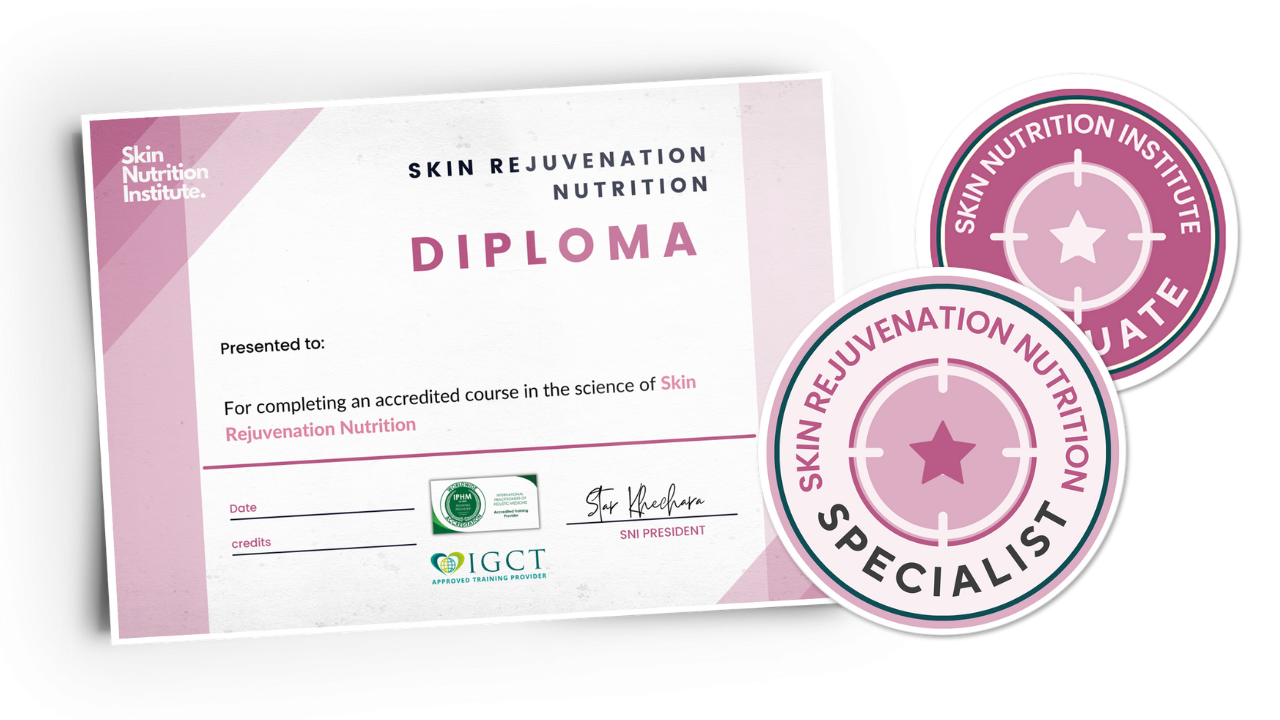 The question we get asked the most:


what's the difference between this Diploma (skin rejuvenation) and the Integrative Nutridermatolgy® Diploma?
You can choose only one pathway through the valley of misinformation. Choose

YOUR

quest wisely...
QUEST 1
Diploma in Skin Rejuvenation Nutrition
$2995 $2495
This course focuses PURELY on holistic nutrition for skin-health, ageing and rejuvenation
SKIN SCIENCE MODULE

SKIN AGEING MODULE

COLLAGEN MODULE

INTEGRATIVE SKIN NUTRITION MODULE

NUTRIGENOMICS MODULE

PHYTOCHEMICALS MODULE

FUNCTIONAL NUTRICOSMETICS MODULE

SKIN REJUVENATION INTERVENTIONS
👇🏼 SCROLL TO ENROL 👇🏼
QUEST 2
Diploma in Integrative Nutridermatology®
$4995 $3995
THIS COURSE includes all of the 8 Skin Rejuvenation modules
+ nutrition for clinical skin disorders
SKIN SCIENCE MODULE

SKIN AGEING MODULE

COLLAGEN MODULE

INTEGRATIVE SKIN NUTRITION MODULE

NUTRIGENOMICS MODULE

PHYTOCHEMICALS MODULE

FUNCTIONAL NUTRICOSMETICS MODULE

SKIN REJUVENATION INTERVENTIONS

INTEGRATIVE DERMATOLOGY MODULE

ACNE, ECZEMA & PSORIASIS MODULE

ROSACEA, XEROSIS AND SEBHORHEIC DERMATITIS MODULE

CELLULITE, THREAD VEINS, STRETCH MARKS AND SKIN TAGS MODULE

SKIN PIGMENTATION MODULE

URTICARIA & HISTAMINE REACTIONS MODULE

UV DAMAGE AND SKIN CANCER MODULE

NUTRITIONAL DERMATOLOGY INTERVENTIONS MODULE
CLICK HERE TO BE SENT ON YOUR WAY. BON VOYAGE 👉🏼
Guaranteed Security using one of the most advanced encrypted systems on the market.
The information in this page is being processed and encrypted securely using industry-leading encryption and fraud prevention tools.
ENROLMENT CLOSES IN
Need a few days to decide? Download the course brochure
Your brochure is in your inbox. Be sure to also check your junk and spam folders or promotions tab (if you use Gmail)
We'll also add you to our insiders email list so you'll be in-the-know with current skin nutrition news, free and paid classes, and other valuable content
.
You can unsubscribe any time
👉🏼 Privacy Policy
Grab the brochure before you go👇🏼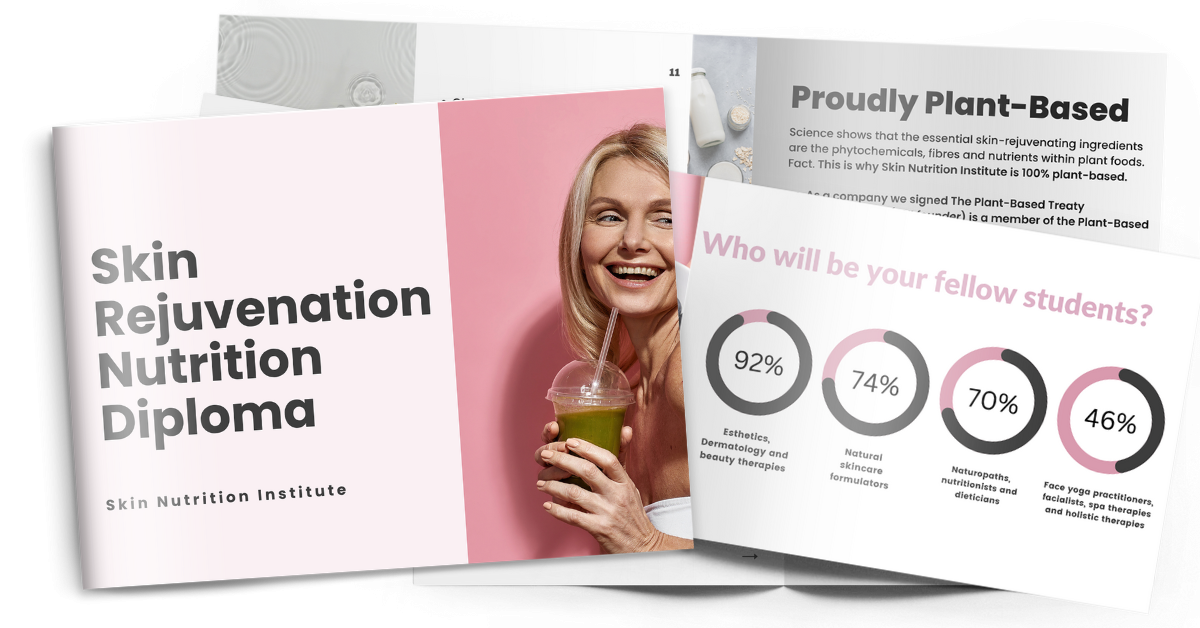 You'll be added our insiders email list so you'll be in-the-know with current skin nutrition news, free and paid classes, and other valuable content. You can unsubscribe at anytime .
👉🏼 Privacy Policy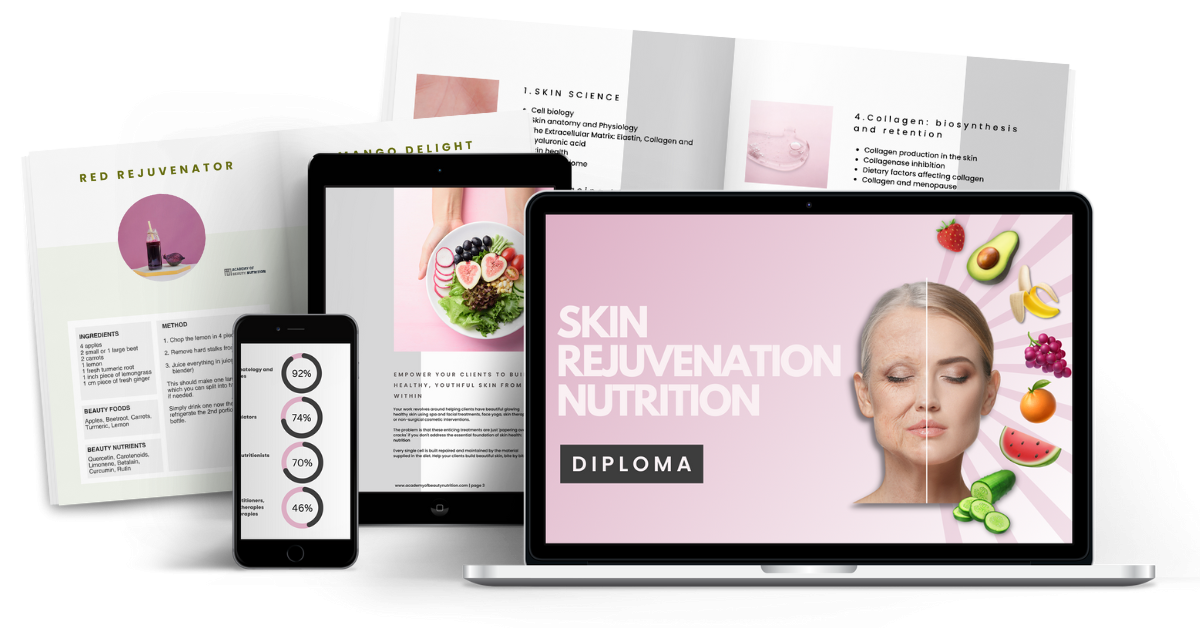 Get qualified in
Skin Rejuvenation Nutrition
with an accredited Diploma
Enrolment now open
Created with