Accredited Masterclass
Nutrition for the Gut-skin axis
Healthy skin is dependant upon a healthy gut. Unlock the science of how to build a thriving gut microbiome to rejuvenate, beautify and heal the skin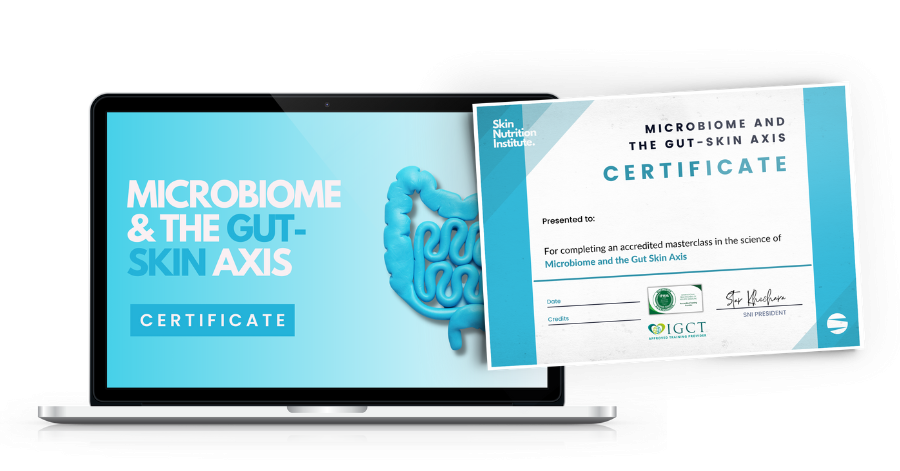 accredited internationally
Your clients cannot build gorgeous, healthy skin without a healthy gut...
Do you want to take your practice to the next level by understanding the crucial connection between gut health and skin health? If yes, then this masterclass is perfect for you. Our Gut-Skin Axis class is designed to provide you with comprehensive knowledge of the gut-skin axis and how it impacts your clients' skin health. You'll learn about the latest research on the microbiome and how it influences ageing. You'll also gain insight into how various dietary and lifestyle factors impact the gut-skin axis and contribute to gut dysbiosis.
Prebiotics and probiotics that act on the gut-skin axis possess many biological activities, including immunomodulatory and antioxidant activity, which can benefit skin conditions by increasing skin hydration, skin gloss, skin elasticity, and alleviating facial wrinkles
Life (Basel). 2022.
Why take this Gut-Skin Axis class?
🦠 You'll understand the structure of the gut, the importance of 'tight junctions', the microbiome bacterial inhabitants, what causes dysbiosis and the difference between prebiotics and probiotics.

🦠 You'll be able to pinpoint dietary patterns that cause dysbiosis and devise dietary interventions that reverse dysbiosis, build a thriving microbiome and create healthy skin. You'll also understand what causes leaky gut and how to resolve it.

🦠 You'll learn about the skin microbiome and the three ways the skin creates and maintains the acidic environment. The main types of bacteria that live on the skin surface and about how skin microbes are kept in check with AMPs such as Cathelicidins. And what causes skin microbiome dysbiosis
If you're not already fascinated with how the gut affects skin-health, you soon will be...
Non-Starch Polysaccharides leave the small intestine intact and are fermented into Short Chain Fatty Acids (SCFAs) by the gut flora in the colon.
20% of circulating Lysine and Threonine (essential for Collagen biosynthesis) in adult humans is synthesised by the gut bacteria
Intestinal inflammation is measure by the concentrations of a bio-marker called: Lipocalin-2 (Lcn-2) and this biomarker decreases on a plant-based diet
Topics covered in this class
Click the down arrow on the side to expand each topic 👇🏽
The gut and its inhabitants
Gut functions
Pre-biotics v Probiotics
Gut symbiosis and dysbiosis
Tight junctions
How to feed the microbiome
How the microbiome feeds us
Prebiotics Vs Probiotics
Fibre and MACs: the importance of sugar for a healthy gut.
Vitamins that the gut synthesises

The foods and dietary patterns that cause dysbiosis.
About microbiome endotoxins
About leaky gut and lectins
Dysbiosis, inflammation and ageing
Endotoxaemia: lipocaalin-2, TMAO and antibiotics
Leaky gut
Collagen building amino acids that are produced by healthy gut bacteria
Gut dysbiosis contributes to 'inflammaging' and upregulates MMPs that destroy collagen and elastin
Gut bacteria and bioavailablity of polyphenols
Fatty acids produced by the gut maintain skin-health
🦠 Dietary interventions for gut health
High-fat western style diets and gut dysbiosis
Protective polyphenols that maintain tight junctions
Gluten, zonulin and tight junction dysfunction
Beans, lectins and gut health
High-fibre plant-based diet for gut health
Urolithins and Beta-glucans
🦠 Skin Microbiome and barrier function
Types of skin bacteria
The microbiome, acid mantle and lipid barrier
Variation in skin microbiome in different skin terrains
The importance of cathelicidins
Skin microbiome disruptors: sebum, hydration and personal care products

Guaranteed Security using one of the most advanced encrypted systems on the market.
The information in this page is being processed and encrypted securely using industry-leading encryption and fraud prevention tools.
This certified masterclass is perfect if you're working with clients' skin-health at any level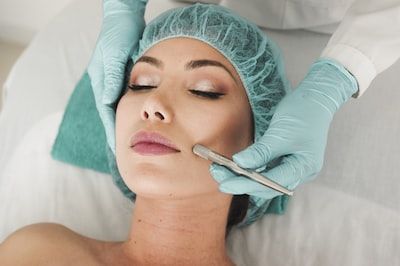 Estheticians, Dermatologists & MedSpa clinics
Understand the essential link between your clients' dermatoses and skin-ageing, and the health of their gut / microbiome.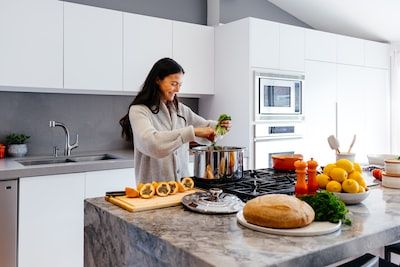 Nutritionists, health coaches and naturopaths
Help your clients build healthy youthful skin by working on healing their gut with an evidence-based plant diet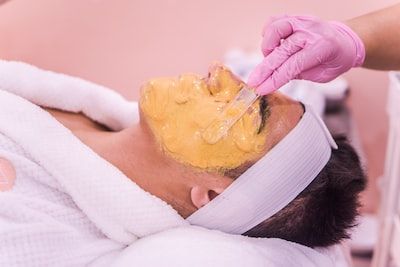 Facialists, Face Yoga Practitioners and holistic skin therapists
Augment your clients facial treatments by including gut-health advice and microbiome information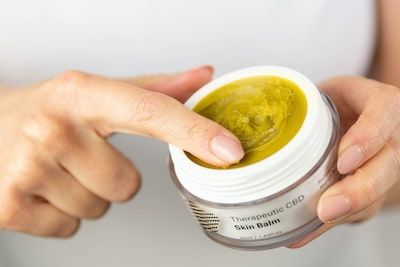 Formulators of skincare, health food, juices and nutricosmetics
Use the skin microbiome lessons to help you create microbiome-friendly skincare and rituals. And help your clients get better skin from within by including gut-health dietary information (or products)
Why study with us?
This class has been created to further your advance your knowledge and grow your integrative skin-health career.
Empty space, drag to resize
Evidence-Based
Every course we teach - from mini-classes to our 1-year diploma - is based on peer-reviewed research.
Fully referenced
You get access to the full citation list so you can fact-check the science with confidence.
Industry specific
This specialised skin hydration class has been created specifically for professionals and practitioners in the skin sciences or nutritional sciences.
Epic student support
No matter what class you take with us, you're always treated as a valued student and you get lifetime access to our student portal for social networking, study groups and learning support.
Growing science library
Inside our dedicated student portal there is an area called 'best resources' where you'll find a growing library of science research papers free to download.
Social networking
No more Facebook groups! We have our very own social networking site built right inside the student portal allowing you to make friends and 'study buddies'.
Discussion groups
Every course has a dedicated discussion group so you can ask questions, post up ideas and thoughts, get feedback and interact with your fellow students on the same course.
Certificate & Credits
This masterclasses gives you an accredited certificate with three CPD / CE credits.
Meet your teacher
Star Khechara
Skincare formulator and beauty author turned skin-nutrition researcher, Star distilled her 20+ years of skin-health knowledge into the world's first international accredited school to educate estheticians, dermatologists and allied skin-health practitioners in the emerging science of skin-nutrition, integrative skin health and nutridermatology®
Empty space, drag to resize
During my work as a skincare formulator I noticed that so many cosmetic ingredients were foods or food extracts, I realised that the power to beautify, treat and rejuvenate the skin was in diet, nutrition and food...not skincare products
Frequently asked questions
YES! As soon as your enrol and pay the fees you'll have instant access to the class and all of the class materials.
Video lesson
Class notes
Lesson quiz
Certificate of Attendance
As a school we are proud to be accredited by IPHM (International Practitioners of Holistic Medicine) and the IGCT (International Guild of Complementary Therapists) the which means a 3rd-party organisation has reviewed our course materials and verified them as being of a suitable standard for a practitioner.

As a graduate YOU will be eligible to join IPHM and IGCT and be listed on their register And you'll have access to deals on your professional indemnity insurance.

Star Khechara is also an active member of the Plant-Based Health Professionals
How long will it take to finish the class?
This masterclass will take about 2 hours to complete
Do you offer team discounts?
We can offer substantial discounts on group enrolments (especially when there are more than 10 participants).
Send us an email with all the information:
[email protected]
Can I license this class for my team of staff?
We can offer a non-exclusive licensing for this class, please contact us at
[email protected]
What happens after I've paid?
Once you've enrolled you'll be prompted to create your login and password so you can access our Virtual Learning Environment (VLE).
Once inside you can move around the portal and access everything you need:
There's a course area where your courses will be
There's a community area for discussion groups and friendship
There's a 'best resources' area for all of your saved notes and access to our science library
There's a 'start' page which has our orientation video to help you navigate around the website and use all of the facilities.
Is this class suitable for me?
This class is aimed at professionals and practitioners in these fields:
Estheticians
Dermatologists
MediSpa staff
Skin Therapists
Skincare formulators
Beauty therapists and facialists
Health coaches
Functional food and nutrition practitioners
Will I get a certificate?
Yes,. you will be able to download a personalised Certificate of Attendance when you finish the class and the class quiz.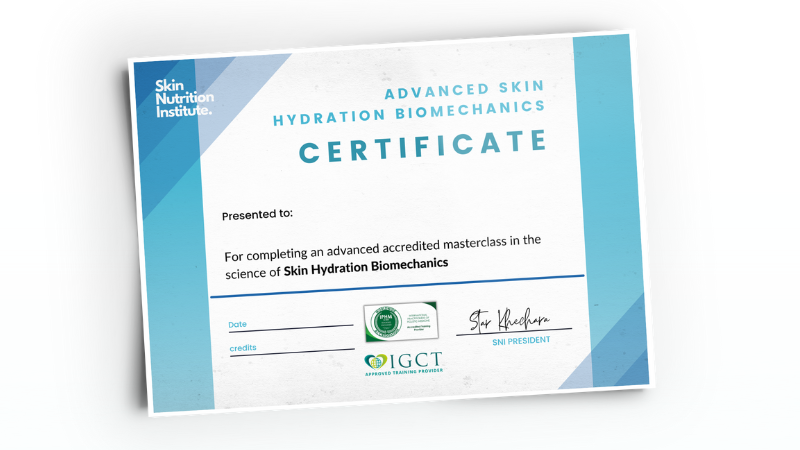 BEFORE YOU GO
GRAB YOUR FREE SKIN NUTRITION
PRACTITIONER STARTER KIT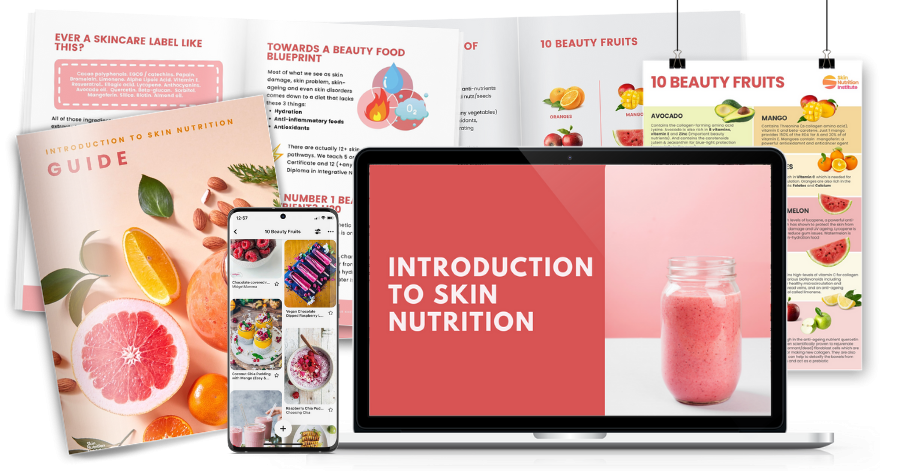 Created with