Certificate in Beauty Nutrition
Become a Beauty Nutrition Advisor with this accredited 8-module course
10 CPD hours
1 CEU credit
8 Modules
14 VIDEO CLASSES + FACTSHEETS
Assessments
8 module tests. 1 final exam
Certificates
Accredited by IPHM
Give your clients the gift of healthy glowing skin
Empty space, drag to resize
In your work as a facialist, face yoga practitioner or skincare product formulator you've realised that what we put inside our bodies (to feed the skin from within) is even more important than what we apply to the outside.

All of those lotions, potions, facials and massage techniques you currently use can't ever work miracles unless you also give the skin the nutrition it requires to repair, regenerate and rejuvenate.

This entry-level course will guide you gently into the world of skin nutrition so you can help your clients get the beautiful skin they desire and you can enhance your career with this extra service.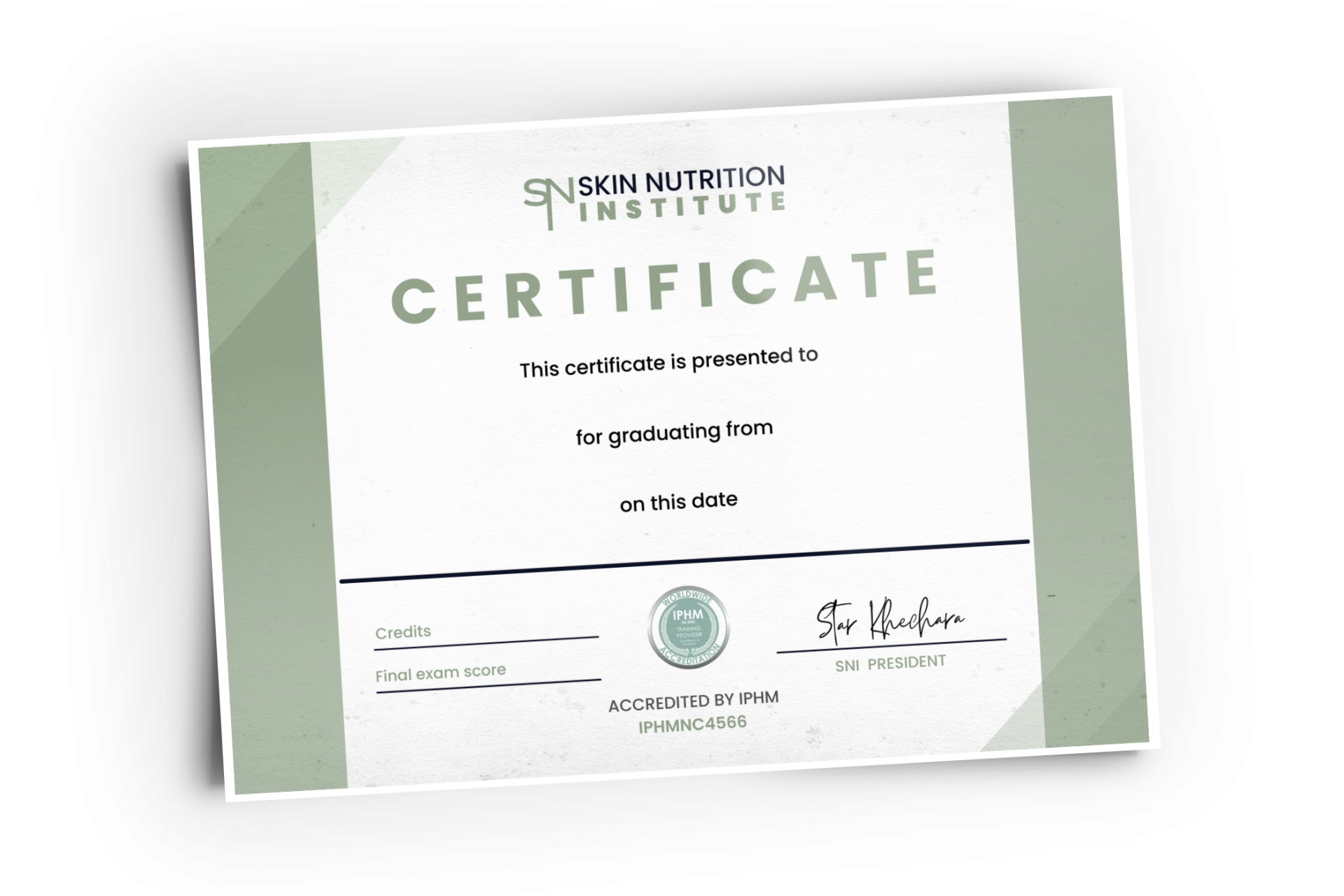 Learning outcomes and key competencies
The Certificate in Beauty Nutrition will allow you to help your clients in an advisory role.
Skin Ageing
You'll understand the functions, structures and ageing processes of the skin including how nutrition plays a part.
Skin Nutrition
You'll learn the skin-specific nutrients and the roles those nutrients play in the health and rejuvenation of the skin. You'll understand the 4 main ageing pahways and how to use nutrition to lessen the impact.
Skin Foods
You'll understand the concept of a 'beauty food' and the scientific basis for what determines a food as a beauty food or a skin enemy. You'll dive into the world of phytochemicals and gain insight into the top 30 beauty foods.
This course is perfect for you if you are...
A Skincare Formulator
You will learn to enhance your skincare products with skin nutrition knowledge
A Facialist or Face Yoga Practitioner
Your clients will be thrilled with their nutritional strategies to use between or with treatments
A Beauty Therapist
You'll be able to advice clients on treating their minor skin issues with food
A Manager of salon or spa team
Your staff will be able to go the extra mile for their clients to solve their skin-health problems
End of year offer expires 31st december
Guaranteed Security using one of the most advanced encrypted systems on the market.
The information in this page is being processed and encrypted securely using industry-leading encryption and fraud prevention tools.
Meet your teacher
Star Khechara
Skincare formulator and beauty author turned skin-nutrition nerd, Star distilled her 20+ years of skin-health knowledge into the world's first international accredited skin-nutrition school to teach skin therapists, facialists, face yoga practitioners and estheticians how to feed the skin from within for cellular-level rejuvenation and vibrant beauty.
Created with