Experience this class for just $47 today
Enrol onto one of our popular class Dietary Sunscreen for $97 $47 with the code DIETSUN47
USE THIS CODE BEFORE THE TIMER RUNS OUT AND THIS OFFER EXPIRES
Did you know that sunscreen isn't enough to prevent cancer or UV-ageing?
Ignore what you were taught in college, sunscreen is only 50% protective against Malignant Melanoma and 40% protective against non-Melanoma cancers. Your clients deserve the truth that sunscreen won't fully protect them for skin-damage, photoageing and skin cancers. They deserve to know that there are nutrients and phytochemicals in ordinary foods that offer a high level of protection against UV damage.


☀️ Phytochemicals versus Photoageing
Dietary sunscreen is a fast-growing area of science because so many studies have shown that food components are potent protectors of the skin against the ravages of the sun. The research has prompted many scientists to say that the BEST form of sun protection is topical sunscreen AND dietary sunscreen used together for a broad-spectrum solution.
In recent years, considerable interest has been focused on identifying naturally occurring botanicals, specifically dietary, for the prevention of photocarcinogenesis. A wide variety of botanicals, mostly dietary flavonoids or phenolic substances, have been reported to possess substantial anticarcinogenic and antimutagenic activities because of their antioxidant and anti-inflammatory properties.
Photochem Photobiol Sci 2006
Why take this Dietary Sunscreen class?
⚡ Dietary Sunscreen is new and growing area of skin science and as a professional in this industry you need to stay current with research, tools and services.

⚡ Many practitioners don't move with the times so you can stay ahead of your competition by implementing new skin-health solutions in your clinic.

⚡ Your clients deserve (and will pay for) the best treatments and advice to help them get gorgeous, healthy, youthful skin and prevent sun-ageing
Topics covered in this class
Click the down arrow on the side to expand each topic 👇🏽
The 4 ways the sun can cause skin damage and cancer
The 2 ways that the sun influences genes that promote cancer
The biomechanics of UV-instigated damage and tanning and how light receptors are involved.
What makes skin redden during sunburning

Learn about the 2 main types of skin cancer and which is most deadly
Who is more at risk of cancer and other factors
Why typical sun protection advice isn't working as well as we think it is.
What scientists are working on to create a 'broad spectrum' solution to UV damage and skin cancer

The dietary patterns that can help prevent UV damage
The emerging epidemiological patterns in the scientific literature regarding dietary sunscreen

☀️ UV Protective Phytochemicals
Explore the science behind the phytochemicals that have been studied for their 'sunscreen' abilities and learn the biomechanics of how these food compounds work at the cellular level and DN level.
You'll look at:
Lycopene
Ellagic acid
Selenium
Curcumin
Resveratrol
Catechins
And some lesser known phytochemicals that are starting to be studied.
Guaranteed Security using one of the most advanced encrypted systems on the market.
The information in this page is being processed and encrypted securely using industry-leading encryption and fraud prevention tools.
USE CODE
DIETSUN47

BEFORE THE TIMER RUNS OUT
Why do our students love studying with us?

The information is clear & concise & I feel one of the best sources for learning about healthy skin
DONNA

Seems alot more comprehensive than other courses out there, it seems to be one of a kind.
NATHALIE

My daughter highly recommended this particular Institute
ANON.

Because I like in-depth education rather than the fluffy nonsense out there in the spa and wellness industry
Yadah

Loved how you explained things in simple terms and not so technical.

FERYAL

Because I am trained in both esthetics and nutrition and your training covers both

Leslie

It aligned with the exact work I wanted to do as a nutritionist in my mid 40's

JOANNA
Why study with us?
This class has been created to further your advance your knowledge and grow your skin-health career.
Empty space, drag to resize
Evidence-Based
Every course we teach - from mini-classes to our 1-year diploma - is based on peer-reviewed research.
Fully referenced
You get access to the full citation list so you can fact-check the science with confidence.
Industry specific
This isn't any nutrition class this Skin Hydration 101 taster class has been specifically developed for professionals and practitioners in the skin sciences or nutritional sciences.
Epic student support
No matter what class you take with us, you're always treated as a valued student and you get lifetime access to our student portal for social networking, study groups and learning support.
Growing science library
Inside our dedicated student portal there is an area called 'best resources' where you'll find a growing library of science research papers free to download.
Social networking
No more Facebook groups! We have our very own social networking site built right inside the student portal allowing you to make friends and 'study buddies'.
Discussion groups
Every course has a dedicated discussion group so you can ask questions, post up ideas and thoughts, get feedback and interact with your fellow students on the same course.
Certificate of Attendance
We want you to have proof of your studies so you can share it on your social channels and Linked in certifications area. You've earned it!
This entry-level class is perfect for you if you're new to this topic or need a quick knowledge update
Estheticians and Facialists
You see sun-damage in your client's skins every day and now you can help them reverse that damage and prevent future damage
Natural Skincare Professionals
This class will help you understand photoprotective phytochemicals that can be used inside (diet and outside (skincare products) giving you the edge in business
MediSpa & Dermatologists
This class is an ideal introduction to functional nutricosmetic foods and phytochemicals as a valid part of your clinical toolkit for skin rejuvenation
Functional Nutritionists & Health Coaches
If you're fascinated with skin-health and want to use evidence-based functional beauty foods with your clients there's no better place to start than with a class on dietary protection against sun damage and ageing.
Meet your teacher
Star Khechara
Skincare formulator and beauty author turned skin-nutrition researcher, Star distilled her 20+ years of skin-health knowledge into the world's first international accredited school to educate estheticians, dermatologists and allied skin-health practitioners in the emerging science of skin-nutrition, integrative skin health and nutridermatology®
Empty space, drag to resize
During my work as a skincare formulator I noticed that so many cosmetic ingredients were foods or food extracts, I realised that the power to beautify, treat and rejuvenate the skin was in diet, nutrition and food...not skincare products
Frequently asked questions
YES! As soon as you enrol you'll have instant access to the class and all of the class materials.
Video lesson
Class notes
Lesson quiz
Certificate of Attendance
As a school we are proud to be accredited by IPHM (International Practitioners of Holistic Medicine) and the IGCT (International Guild of Complementary Therapists) the which means a 3rd-party organisation has reviewed our course materials and verified them as being of a suitable standard for a practitioner.
As a graduate YOU will be eligible to join IPHM and IGCT and be listed on their register And you'll have access to deals on your professional indemnity insurance.

Star Khechara is also an active member of the Plant-Based Health Professionals


How long will it take to finish the class?
This short class wil take between 30-45 minutes to complete
Do you offer team discounts?
We can offer discounts on group enrolments for paid classes and course. (especially when there are more than 10 participants).
Send us an email with all the information:
[email protected]
Can I license this class for my team of staff?
We can offer a non-exclusive licensing for this class, please contact us at
[email protected]
What happens after I've enrolled?
Once you've enrolled you'll be prompted to create your login and password so you can access our Virtual Learning Environment (VLE).
Once inside you can move around the portal and access everything you need:
There's a course area where your courses will be
There's a community area for discussion groups and friendship
There's a 'best resources' area for all of your saved notes and access to our science library
There's a 'start' page which has our orientation video to help you navigate around the website and use all of the facilities.
Is this class suitable for me?
This taster class is aimed at professionals and practitioners in these fields:
Estheticians
Dermatologists
MediSpa staff
Skin Therapists
Skincare formulators
Beauty therapists and facialists
Health coaches
Functional food and nutrition practitioners
Any health practitioner fascinated with the skin

Will I get a certificate?
Yes,. you will be able to download a personalised Certificate of Attendance when you finish the class and the class quiz.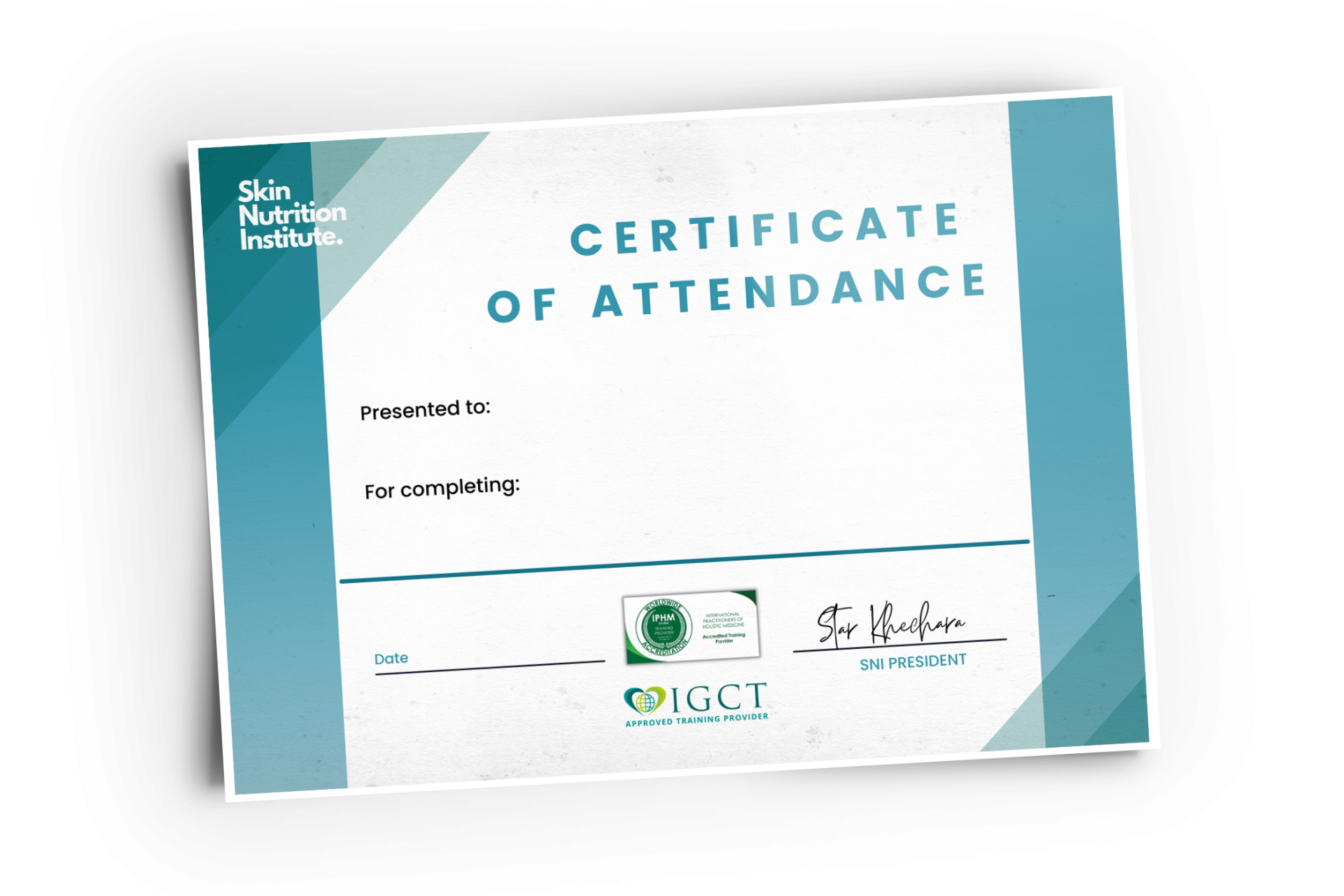 Guaranteed Security using one of the most advanced encrypted systems on the market.
The information in this page is being processed and encrypted securely using industry-leading encryption and fraud prevention tools.
USE CODE
DIETSUN47

BEFORE THE TIMER RUNS OUT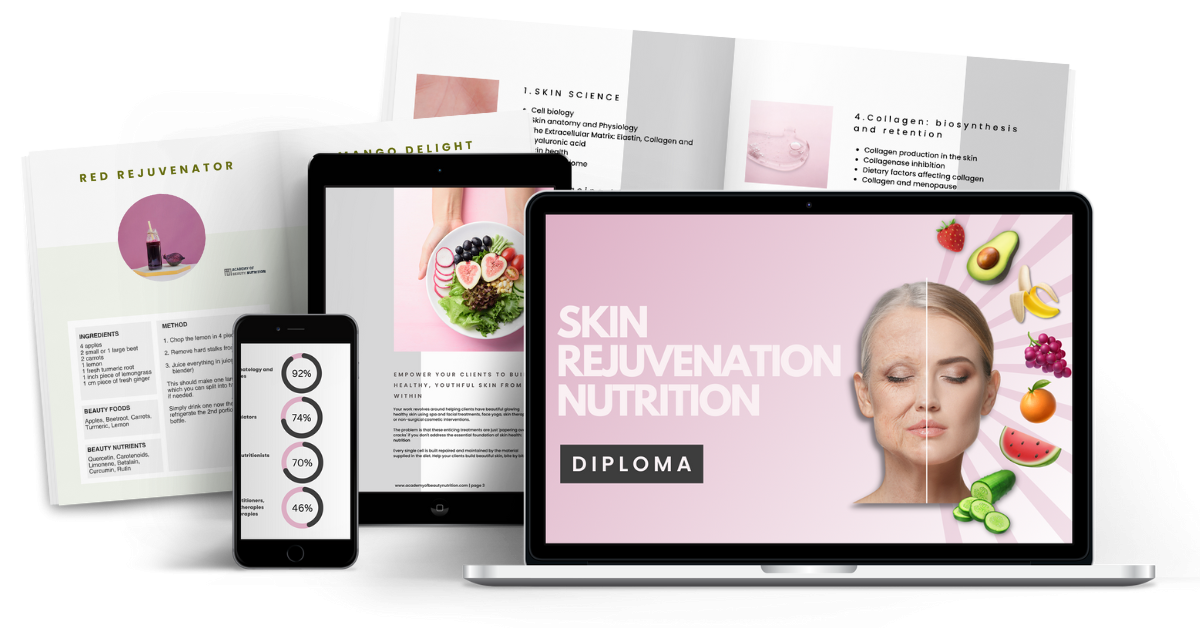 Get qualified in
Skin Rejuvenation Nutrition
with an accredited Diploma
Enrolment now open
Created with