Empty space, drag to resize
Which Skin Nutrition Institute diploma is best for you?
The most common course question we get is
First of all which one aligns the most with the kind of work you do as a practitioner:
Is it your passion to work with skin-health and rejuvenation? Are you excited to discover how to boost collagen using just food and how to fight the 11 ageing pathways using plant-based nutrition?


You'll LOVE the
Skin Rejuvenation Diploma
Do you work with skin on a more clinical level; treating skin disorders like acne, eczema and psoriasis? And you're also wanting to help your clients with skin-health and skin-ageing.
You'll LOVE the
Diploma in Integrative Nutridermatology
®
As you can see BOTH modules teach the same subjects but Nutridermatology® has several additional modules that teach you about the nutritional interventions for clinical skin disorders
Diploma in Skin Rejuvenation Nutrition
$2995 $2495
This course focuses PURELY on holistic nutrition for skin-health, ageing and rejuvenation
SKIN SCIENCE MODULE

SKIN AGEING MODULE

COLLAGEN MODULE

INTEGRATIVE SKIN NUTRITION MODULE

NUTRIGENOMICS MODULE

PHYTOCHEMICALS MODULE

FUNCTIONAL NUTRICOSMETICS MODULE

SKIN REJUVENATION INTERVENTIONS
Diploma in Integrative Nutridermatology®
$4995 $3995
THIS COURSE includes all of the 8 Skin Rejuvenation modules
+ nutrition for clinical skin disorders
SKIN SCIENCE MODULE

SKIN AGEING MODULE

COLLAGEN MODULE

INTEGRATIVE SKIN NUTRITION MODULE

NUTRIGENOMICS MODULE

PHYTOCHEMICALS MODULE

FUNCTIONAL NUTRICOSMETICS MODULE

SKIN REJUVENATION INTERVENTIONS

INTEGRATIVE DERMATOLOGY MODULE

ACNE, ECZEMA & PSORIASIS MODULE

ROSACEA, XEROSIS AND SEBHORHEIC DERMATITIS MODULE

CELLULITE, THREAD VEINS, STRETCH MARKS AND SKIN TAGS MODULE

SKIN PIGMENTATION MODULE

URTICARIA & HISTAMINE REACTIONS MODULE

UV DAMAGE AND SKIN CANCER MODULE

NUTRITIONAL DERMATOLOGY INTERVENTIONS MODULE
Have a look at course content for Diploma in Skin Rejuvenation Nutrition
Have a look at the Diploma in Integrative Nutridermatology®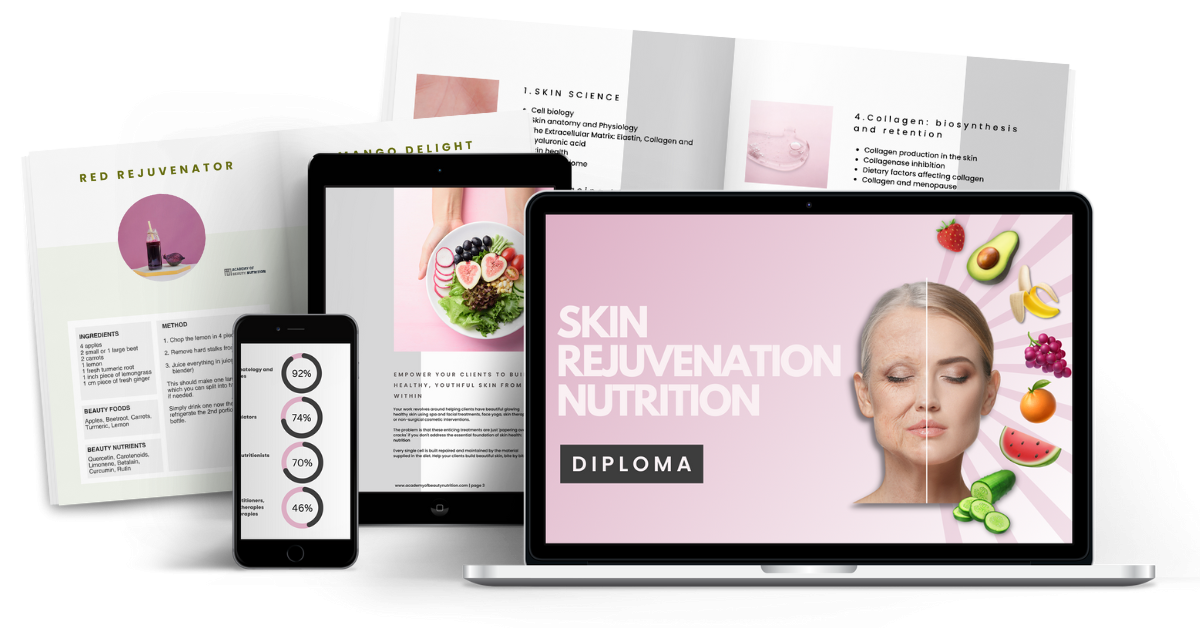 Get qualified in
Skin Rejuvenation Nutrition
with an accredited Diploma
Enrolment now open
Created with